Reference projects using HAVER Architectural Mesh
As we all know, a picture is worth a thousand words. Therefore, it is best to form your own picture of our diverse wire meshes - and let yourself be inspired by projects that have already been implemented. Each of them contains all the expertise from hundreds of projects and more than 130 years of experience in the production and processing of wire mesh. Always with the aim of achieving the best result for our customers.
In our extensive and well-stocked reference overview, you will find many successfully completed projects using HAVER Architectural Mesh. Convince yourself of the variety of applications and the quality of our wire mesh and let the projects we have already completed show you the high standards of our work.
Teknopark Istanbul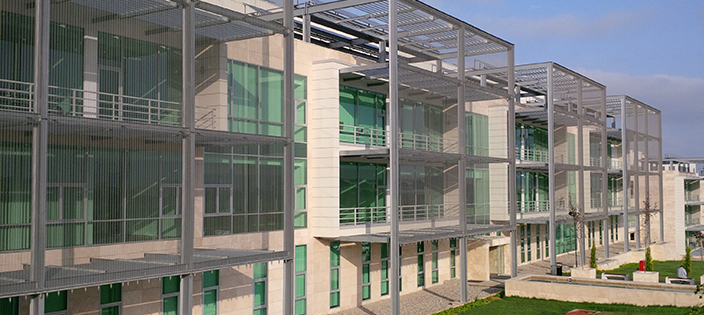 Technology Park in Turkey focuses on IMAGIC WEAVE® HO
Situated on the Asian side of Istanbul in an area of 950,000m², Teknopark Istanbul will host around a thousand local and foreign research and development laboratories.

To enhance the appearance of the first building at Turkeys largest Technology Park, architectural team Bütüner Mirmarlik from Ankara chose HAVER & BOECKER architectural wire mesh for the facade cladding. In total 2,700 m² of architectural wire mesh and an additional 52.5 m² of IMAGIC WEAVE® transparent media façade were used to embellish the building.

IMAGIC WEAVE® offers the right solution for every project. Due to the vast range of stainless steel wire meshes, various LED pitches and two different LED technologies available IMAGIC WEAVE® media façade can be optimally and individually adapted to suit any project.

At Teknopark Istanbul IMAGIC WEAVE® HO media façade system is used with an LED pitch of 40 x 78 mm together with architectural weave type DOKA-BARRETTE 8920. IMAGIC WEAVE® HO is the combination of HAVER & BOECKER Architectural Mesh and THT LED profiles. The excellent high brightness of the THT LEDs of the LED mesh IMAGIC WEAVE® HO system makes it suitable for daytime presentations. Slim LED-profiles are discretely attached to the reverse side of the architectural mesh, maintaining the homogenous appearance of the mesh façade at all times. The inconspicuous cabling of the LED-profile is not visible from outside and with a system transparency of 58% the view from inside the building to the outside is retained.

In addition to weave type DOKA-BARRETTE 8920 2,700 m² of MULTI-BARRETTE 8123 cable mesh were installed. With an open area of 64% the architectural mesh acts as a sun protection screen in front of the offices.

During the project HAVER & BOECKER supported the client with technical detailed planning. In addition to the installation, instruction and commissioning of the media façade HAVER & BOECKER carried out theoretical and practical on-site training.
City
Istanbul, Turkey
Application
façade, sun protection
Object Type
office buildings
Mesh Type
Architect
Project Sheet