Parapets and fall protections made out of stainless steel wire mesh
Are you looking for semi-transparent balcony parapets, railing infills or fall protection systems made out of stainless steel? Do you want to ensure that these elements meet the highest demands on safety and stability? Then put your trust in our solution: individually plannable parapets with HAVER Architectural Mesh.
Aesthetic, robust and safe: Stainless steel parapets
Parapets which are filled with stainless steel wire mesh from Haver & Boecker represent a robust, durable solution as fall protection. The combination of unique aesthetics, reliable safety, very few maintenance requirements and robust stability make HAVER Architectural Mesh a very suitable material for making fall protection systems of all kinds.
Parapets acting as fall protection are of decisive importance for safety inside and on a building. They are always used when building openings have edges to fall from. Specific applications include:
french balconies
balcony parapets
railing infills on staircases or bridges
Using individually plannable stainless steel fall protection systems made out of HAVER Architectural Mesh you can set functional and optical accents in your building planning. Our semi-transparent wire mesh is made out of high quality, molybdenum alloyed, non-corrosive stainless steel and creates either transparency or visual protection from outside. According to the application you have mechanically robust mesh types and weather-resistant alloys available to you. Whether it is for balcony balustrades, railing infills or fall protection - with a metal balustrade made of stainless steel wire mesh, you are on the safe side when planning a balustrade.
Stable and durable: maximum safety for parapet elements
Due to the fashioning of corrosion-resistant stainless steel, parapet elements made out of HAVER Architectural Mesh for balconies, railings and guardrails are extremely durable. Architectural mesh consists of high-tensile wires and guarantees a high degree of safety in combination with a special attachment technique.
High quality optics & individual design: Stainless steel parapets make it possible
Architectural wire mesh bestows every parapet with a textile elegance and lightness. When used in connection with suitable backlighting, fascinating light effects can be created thanks to the transparency and reflective nature of the stainless steel surface.

When planning your parapet, you can select from various wire mesh types and different options in the colour scheme to create an individual design, which offer virtually unlimited design options.
It all depends upon the viewing angle: it is because HAVER Architectural Mesh creates the effect
being opaque when seen from a side viewing angle
being transparent when seen from a direct viewing angle
For example when looking out from a balcony this allows good transparency looking outwards, while the view from the street level is severely restricted.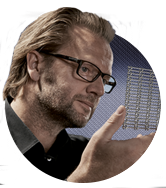 Your Team of Experts
Support and Sales
Architectural Mesh