Our services
This is how we support you in achieving your goals
Organizational and personnel changes, new technological challenges or the redistribution of tasks are part of our everyday work. With every change, many questions inevitably arise.:
Do your departmental goals require competence development of your employees?
Are qualification measures necessary in your area due to future job requirements?
Do you need competent support for change projects in your field?
Do you need new impulses for yourself or your employees?
Are you looking for a competent partner for the development and coordination of measures?
Your service provider & supporter
Contact us if you'd like to implement concrete objectives, projects and strategic topics in your area more effectively. We support you with tailor-made programs for the necessary knowledge and skills development. Together with you, we formulate the learning objectives and define the correspondingly necessary measures.
Your initiator & strategic partner
We develop new learning products for you in the form of programs and training courses that are oriented towards current management trends, leadership concepts and the latest level of knowledge. We continuously develop these products with a constant eye on current topics and innovative methods. We always design learning paths and learning strategies against the background of your individual requirements and tailored to the respective target group. Content and goal-oriented didactics are closely intertwined in our seminars.
Your coordinator and implementer
With professionalism and standardized processes, we coordinate all measures and implement them effectively. We take over the following processes for you:
Provision of information on planned measures and, if necessary, target group-specific advertising of the measures through mailings
Scheduling of measures after consultation with lecturers and institutes
Space management, provision of infrastructure, equipment and technology as well as catering and hotel management
Overall registration management and support for participants concerning all open questions
Professional lecturer management - that is: controlling the lecturers on all content-related and organisational issues
Provision of seminar documents and handouts
Ensuring a reliable seminar process
Documentation of participation in the learning system for internal participants as well as issuing of certificates of participation, certificates and, if applicable, examination management.
Evaluation of the seminars with the help of feedback from selected participants and interviews with lecturers
Diverse offers for different target groups
Our program is, of course, equally accessible to our customers, our suppliers and companies in the region.
Our future topics of leadership, LEAN 5.0 and digitalisation are intended as an offering for all those who are part of our family. We are happy to support you in generating your added value. You are also welcome to book other trainings in the program. Many training programs are digital so that you can benefit as efficiently as possible from the knowledge and skills development of your employees.
Speak to us!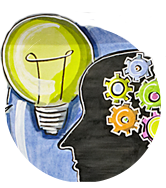 Your Team of experts
HAVER Academy Infoline
HAVER Academy