Food and beverages
In cooking, it is the pinch of salt that makes a perfect meal. In the production of food, precise manufacturing processes and systems already create the basis for later enjoyment. Be it in the preparation or processing of solid and liquid raw materials or in the correct packaging of foodstuffs.
Screening and preparation
You can rely on our wire sieve trays
Two key quality features for any production equipment you use in food manufacturing are safety and cleanliness: The materials used must not release any components onto food that endanger human health. Equally, they must not bring about an unacceptable change in the composition or any impairment of the organoleptic food properties (smell, taste, appearance).
At Haver & Boecker we manufacture easy-to-clean stainless steel wire screen for use in food production that meet the specifications of European and German regulations.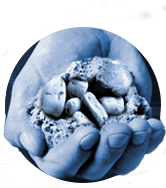 Your Team of Experts
Support and Service
Industrial Wire Screens
Industrial screens for sugar industry
Haver & Boecker keeps a large stock of wire cloth specifications made of material 1.4462 (AISI 318LN), especially for the processing of sugar. In addition to its magnetisability, this duplex material is particularly convincing due to its very good wear and continuous vibration properties.
Filtration
Wire mesh fabric for different consistencies
Wire mesh fabric moulded parts are integrated into production lines and household appliances and are used for the filtration of food. Various cleaning systems and thermal processes are used to qualify stainless steel metal wire mesh fabric for this industry.
Analysis
Testing and monitoring during the production process
In food production, constant incoming inspections, production controls and monitoring of the ongoing process are enormously important. This is how you guarantee the quality of your products. For online analysis of particle size and particle shape in the ongoing production process, we offer you various, innovative solutions.