Unlimited scope for design
The weaves and mesh types that Haver & Boecker offers for applications in architecture and design are as diverse as architecture itself. Depending on the choice of warp and weft wires and the type of weave, the result is an individual mesh with a specific look and light effect. The design spectrum can be further expanded with different materials or coloured mesh surfaces.

Note:
We manufacture HAVER Architectural Mesh for you as roll material, cut to size or ready-to-install wire mesh elements.
Our architectural wire mesh at a glance:
Do you already know which metal mesh you are looking for further information about? Then take a look at the alphabetical wire mesh listing on the Mesh A-Z page.

Would you like to get an overview of all wire meshes? In the following mesh overview you will find all HAVER Architectural Mesh types from the 5 mesh categories. Click on a tile to go directly to the mesh details.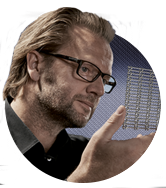 Your Team of Experts
Support and Sales
Architectural Mesh