Wall and ceiling covering with wire mesh
In interior architecture, metal mesh, with its open structures, allows impressive metallic views with an individual aesthetic. The interaction of surface structures, light reflection and colour effects offers planners and architects diverse options for combining extraordinary room design with reliable functionality. This is because the high quality material fulfils all requirements upon durability and safety at the same time, as were established particularly for public area. Whether in convex or concave waves, in tensioned panels or in cassettes – architectural wire mesh can display, over large surfaces but also on the smallest room, its unique effect.
New forms of exclusive interior design
With wire mesh from Haver & Boecker you can upgrade your rooms not just optically but also to create a stylish, representative atmosphere, through use of high quality material and perfect workmanship. A comprehensive range of coarse and fine mesh, flexible and rigid mesh types as well as a multiplicity of various mounting possibilities offer new possibilities for individual plans and exclusive design concepts. Self-supporting, space-defining designs can also be realised using stainless steel wire mesh, as large structures on walls and below ceilings.

The wire mesh can be included in every room architecture and bestows it with timeless elegance, with an expressive character. The shiny surface combined with appropriate lighting with artificial or normal daylight creates interesting structures and reflections: An ideal solution in representative areas such as opera houses or congress centres, but also as wall or staircase coverings in functional buildings of all kinds.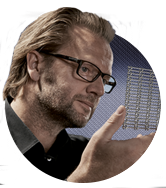 Your Team of Experts
Support and Sales
Architectural Mesh