Wire mesh in electrical engineering and electronics
Electronic components and their technology are constantly evolving – they require less and less space and are becoming more and more sensitive. In order to protect them and yet not impair their function, enormous flexibility and appropriate porosity are required, depending on the area of application. Our wire mesh solutions offer you just that.
In 1815, the industrialisation of woven wire cloth began with its use in miner's lamps as lighting and a warning for the "miners". Even today, metal wire mesh is used in gas detection systems.
Wire mesh is a contact maker
Optimal materials for batteries and fuel cells
Electrolysis is a process in which a redox reaction is generated by an electric current. Wire mesh made of stainless steel or nickel is ideal for anode contacting due to its large surface area, three-dimensional structure and good conductivity.
Since the 1980s, Haver & Boecker has been contributing to the improvement of electromagnetic compatibility in various areas of application, with the development of shielding wire mesh. Over the decades, wire mesh has not only proven itself in the shielding of electronic components in aircraft and cars, but also as a component of buildings and houses, among other things.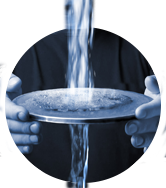 Andreas Brormann
Head of Business Unit
Woven Media and Post Weaving Processes
Screen printing mesh for smallest electronic devices
Optimum paint application using HAVER metal gauze
Screen printing mesh made out of metal gauze has a high register accuracy, can be adjusted to the ink application required for the respective application and enables an optimum ink flow that ensures a uniform colour gradient and a precisely definable ink layer thickness.
The example application of screen printing mesh fabric:
PCB - printed circuit boards
FPC - flexible conductors
Thick film circuits
LTCC circuits
MLCC components, ceramic capacitors
Soldering paste for SMD
Membrane keypads
Scales
Chip production
RFID - radio communication / networks
LCD - Liquid Crystal Displays
PDB / FED screen technology
OLED - organic light emitting diodes
Electronic paper, "e-paper"
TP - "touch panels"