HAVER grommet screens
Replacement screens for your Rotex® separators
Do you screen your minerals on a Rotex® separator and are looking for replacement screens? Then our grommet screens are a perfect choice: Our wire screens are fixed in the existing frame usind eyelets. For this purpose, we first edge the wire mesh with strong PU strips or turn it over by 180 degrees and then equip it with round or oblong grommets. At Haver & Boecker we call these products "grommet screens".
In contrast to conventional screens, Haver & Boecker grommet screens are characterised by a border with robust PUR strips. This offers you two central advantages:
More stability for the screen
Simplified handling during installation
The PUR strips are available in white or transparent. The transparent edging has approvals according to VO(EC) No. 1935/2004, (EU) No. 10/2011) and FDA. This means that you can use them in the food industry without any objections. Optional PUR-strips, which lie on the longitudinal support bars of the screening machine, can further extend the service life of the screen panel.
If you wish, we can also fold over the long sides of the wire mesh to reinforce the edges before applying the grommets. This design is used, among other things, in screening processes with operating temperatures above 80 degrees Celsius, when PU strips cannot be used any longer.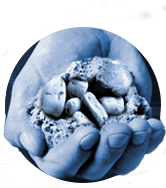 Your Team of Experts
Support and Service
Industrial Wire Screens
Efficient for the bes performance
The wire mesh specification has a significant influence on your product quality and the performance of your screening machine. For example rectangular meshes can work wonders: An up to 30% higher open screening area increases the capacity of your screening machine without having to accept a shorter service life.
Rectangular meshes are available from us for all common separating cuts – from coarse to fine:
Available in all sizes and designs
We manufacture our grommet screens for mineral processing machines of all types and sizes – if required, you can also get them with a stainless steel hook on one side as used on Megatex® screeners.
Only high-quality stainless steel grommets are used, either in a round or oval shape.