Apprenticeship – Studies – Internship
This is how your career start turns into a real success story
Are you at the end of your schooling and have perhaps already successfully completed your degree and are now thinking about what to do next? We will accompany you on your successful start in the work world – and show you here what entry opportunities you have with us.
Are you between 10 and 15 years old and would like to try out a technical trade?
Then come and visit us at HAVER & BOECKER OHG in Oelde as part of Girls' Day. Here you have the chance to get to know our workshops, offices and laboratories. You'll get an insight into the jobs of different areas of the work world. Through personal conversations with employees and concrete practical exercises, you can broaden your experience and orientation.
Every year, about 30 interested girls take part in our one-day company internship and quickly realize that women and technology really do fit.
Be there next time, test your skills and maybe even get to know your future work colleagues. We look forward to you contacting us.
Are you a student in the 8th grade and between 13 and 14 years old? Are you not sure not what you want to be when you grow up? Then come and spend a whole day with us and have a look around.
In the individual areas of our Machinery and Wire Weaving Divisions, you'll perform small practical tasks and have the opportunity to ask our employees questions at any time.
This is how you'll learn a lot about apprenticeships and career paths in our company. We look forward to you contacting us.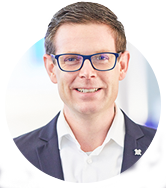 Shane Homeyard
Manager apprenticeship
Apprenticeship Department
Azubi Mobil – Career to go
Where the name says it all
With our apprenticeship program "Azubi Mobil – Carrer to go", we give our apprentices the opportunity to become truly mobile and explore the world! You'll get the opportunity to see different parts of the world at one of the worldwide distributed subsidiaries of Haver & Boecker. For example, you can visit our subsidiary HAVER & BOECKER USA or HAVER & BOECKER AUSTRALIA during a 4-week internship.
Here you'll gain new experiences and get to know new people and cultures. In this way, you not only develop professionally, but also personally.