HAVER Architectural Mesh with national technical approval (abZ)
HAVER Architectural Mesh, as a regulated and approved building product by the German Institute for Construction Technology, offers you advantages in the planned implementation of metal mesh façades and wall cladding, as well as fall protection made of stainless steel mesh.
Facade claddings made of wire mesh from Haver & Boecker have been tested by the German Institute for Construction Technology (DIBt) and are now granted with the certified national technical approval abZ Z-14.7-923. Woven wire mesh façades made of HAVER Architectural Mesh therefore meet the requirements regarding standard-compliant building products for façades in line with the German Model Building Regulation (MBO). Five of the most frequently used mesh types, including the corresponding mounting solutions, are now certified building products and can be used throughout Germany in accordance with state building regulations.
Do you have any questions?
We will be happy to advise you.
Good service and direct communication are very important to us, before and during a cooperation. The team from HAVER Architectural Mesh is happy to be at your serve at any time to offer comprehensive advice concerning wire mesh. We look forward to you contacting us.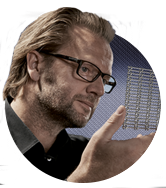 Your Team of Experts
Support and Sales
Architectural Mesh