Reference projects using HAVER Architectural Mesh
As we all know, a picture is worth a thousand words. Therefore, it is best to form your own picture of our diverse wire meshes - and let yourself be inspired by projects that have already been implemented. Each of them contains all the expertise from hundreds of projects and more than 130 years of experience in the production and processing of wire mesh. Always with the aim of achieving the best result for our customers.
In our extensive and well-stocked reference overview, you will find many successfully completed projects using HAVER Architectural Mesh. Convince yourself of the variety of applications and the quality of our wire mesh and let the projects we have already completed show you the high standards of our work.
City Railway Cologne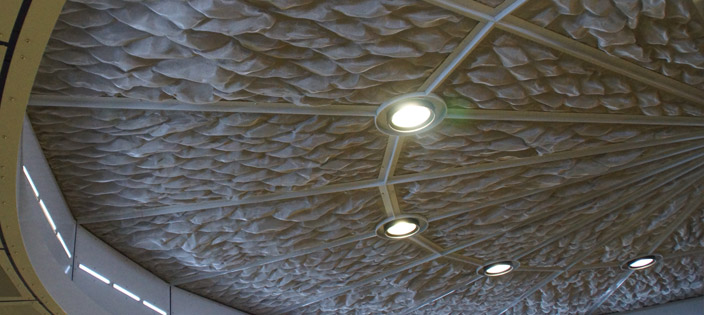 Three-dimensional stainless steel wire mesh ceiling made of architectural mesh MONTANA at a subway station in Cologne.

Located on the western side of the central historic Alter Markt, just behind the Town Hall in Cologne lies the new subway station "Rathaus". This is one of the first new stations to open on the North-South city railway.

There are two entrances to the subway station: one at the Alter Markt and the other at the Red House. Pedestrians' first steps lead them into the circular intermediate level of the subway station. Once inside, they can move via two entrances down to platform level.

The futuristic design of the intermediate level has contrasting red and blue surfaces with silver ceilings and walls. The artfully designed ceiling features architectural mesh MONTANA 1961 manufactured by HAVER & BOECKER.

MONTANA is a stainless steel woven wire mesh that has a distinctive three-dimensional appearance formed using a special process. The resulting unique structure provides increased surface area making it the perfect choice for use in enhancing sound absorption systems.

Every single mesh element was custom-made by HAVER & BOECKER and integrated into the ceiling structure. In total 50 elements of MONTANA 1961 were used to create this spectacular circular ceiling. In addition 20 mesh elements of weave type DOGLA-TRIO 1032 were used for other ceiling elements.
City
Cologne, Germany
Application
ceiling, acoustic
Object Type
airports / stations
Mesh Type
Architect
Project Sheet