Reference projects using HAVER Architectural Mesh
As we all know, a picture is worth a thousand words. Therefore, it is best to form your own picture of our diverse wire meshes - and let yourself be inspired by projects that have already been implemented. Each of them contains all the expertise from hundreds of projects and more than 130 years of experience in the production and processing of wire mesh. Always with the aim of achieving the best result for our customers.
In our extensive and well-stocked reference overview, you will find many successfully completed projects using HAVER Architectural Mesh. Convince yourself of the variety of applications and the quality of our wire mesh and let the projects we have already completed show you the high standards of our work.
Deutsche Post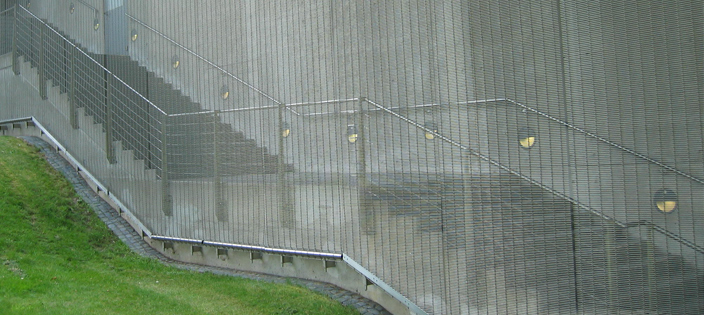 Covering the facade of the new head office building of "Deutsche Post" with architectural mesh MULTI-BARRETTE 8311.

Challenge:
Covering the base facade of the building
Incoporate the complex building forms
Tensioning of long panels without intermeditae mountings
Special visual requirements to the mounting system

Solution:
Adjust the pitch of the cable clusters to the architectural demands
Development of special mounting meeting the architect's ideas
All elements custom-made with partially angular forms.
HAVER & BOECKER conducted on-site measurements, weaving and fabrication of the ready-to-install panels and installtion.
City
Bonn, Germany
Application
façade
Object Type
office buildings
Architect
Mesh
Project Sheet