Reference projects using HAVER Architectural Mesh
As we all know, a picture is worth a thousand words. Therefore, it is best to form your own picture of our diverse wire meshes - and let yourself be inspired by projects that have already been implemented. Each of them contains all the expertise from hundreds of projects and more than 130 years of experience in the production and processing of wire mesh. Always with the aim of achieving the best result for our customers.
In our extensive and well-stocked reference overview, you will find many successfully completed projects using HAVER Architectural Mesh. Convince yourself of the variety of applications and the quality of our wire mesh and let the projects we have already completed show you the high standards of our work.
Bridge Getingmidjan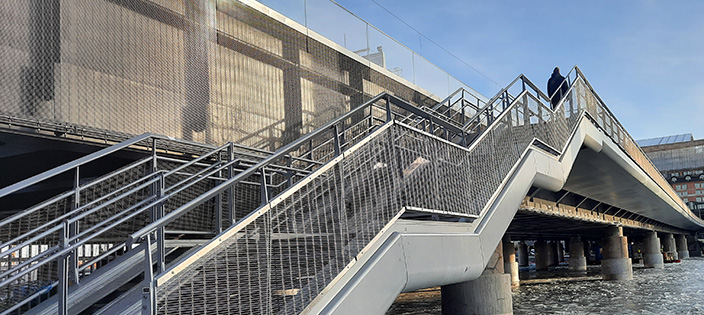 Rollable architectural mesh from Haver & Boecker clads railway bridge in Stockholm: With the stainless steel mesh types MULTI-BARRETTE 8301 and DOGLA-TRIO 1032 from Haver & Boecker, the Swedish Trafikverket - the central office for transport infrastructure - found a perfect product to clad a train, bicycle and pedestrian bridge in Stockholm. Crucial factors were the flexibility, transparency and durability of the wire mesh from the German manufacturer.
Flexibility and transparency: the decisive challenge
A railway bridge is rarely visually appealing. It must primarily be stable, function for a long time and allow easy maintenance of the technical installations. Between Norrström and Söderström in the centre of Stockholm, two railway bridges with associated bicycle and pedestrian bridges from the 1950s were renovated. Getingmidjan, the busiest railway line in Sweden, is used by around 300 trains every day. The bridge had reached the end of its technical service life and bridge superstructures as well as the track itself had to be replaced to ensure sustainable traffic in the future. The difficulty here is that the railway line between Stockholm Central and Stockholm South runs through some of the Swedish capital's most culturally sensitive and valuable water and urban landscapes.
With years of planning, architect Kenneth Hilden from Sweco Architects, in cooperation with the client Trafikverket and many other involved parties, planned the renovation down to the smallest detail. To ensure that technical maintenance could take place without any problems, the architect opted for visually appealing cladding with stainless steel mesh.
The railway bridge was clad with cable mesh MULTI-BARRETTE 8301. Architectural cable mesh brings with it a decisive advantage due to its materiality: cable mesh MULTI-BARRETTE shines with its special elegance. The woven cables give flexibility and structure to the mesh, while the rods provide stability and create homogenous reflections. In the case of the Getingmidjan railway bridge in Stockholm, this means that during maintenance, the cable mesh can be rolled up and the technical equipment underneath can be checked and repaired.
Fall protection for the pedestrian and bicycle crossing
Not only the railway bridge was clad with wire mesh from Haver & Boecker. The associated bridge for pedestrians and cyclists also received a balustrade cladding made of architectural mesh. The stainless steel mesh DOGLA-TRIO 1032 was used to create an attractive railing that is a robust and durable solution. The combination of unique aesthetics, reliable safety, minimal maintenance and robust durability makes HAVER Architectural Mesh a suitable material for fall protection of any kind. Furthermore, it is maintenance-free, corrosion-resistant and fully recyclable after use.
With a total of 3,200 square metres wire mesh and two different architectural mesh types, the Getingmidjan Bridge in Stockholm, despite its size, shows only a small part of the high-quality and appealing solutions that are possible with HAVER Architectural Mesh. Haver & Boecker supplied the cable mesh MULTI-BARETTE 8301 as ready-to-install mesh elements and the wire mesh DOGLA-TRIO 1032 as a complete package including frames and handrails.
City
Stockholm, Sweden
Application
balustrade, falling protection
Object Type
bridges / tunnel
Mesh Type
Architect
Data sheet
Project sheet