Reference projects using HAVER Architectural Mesh
As we all know, a picture is worth a thousand words. Therefore, it is best to form your own picture of our diverse wire meshes - and let yourself be inspired by projects that have already been implemented. Each of them contains all the expertise from hundreds of projects and more than 130 years of experience in the production and processing of wire mesh. Always with the aim of achieving the best result for our customers.
In our extensive and well-stocked reference overview, you will find many successfully completed projects using HAVER Architectural Mesh. Convince yourself of the variety of applications and the quality of our wire mesh and let the projects we have already completed show you the high standards of our work.
Gate Avenue DIFC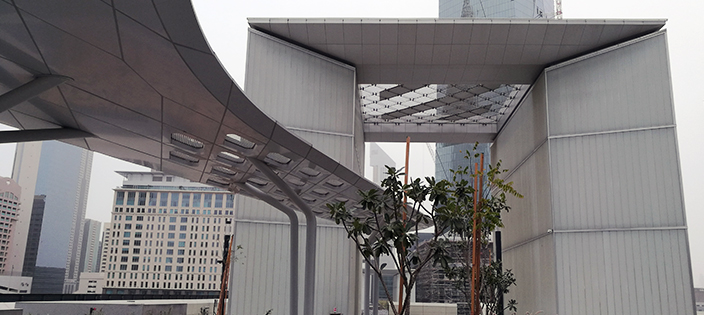 Gate Avenue at Dubai International Financial Center (DIFC) is an 880 m long promenade that extends from the Gate Building to the Central Park Towers and connects the surrounding office, hotel and residential areas. More than 185 retail, gastronomy, fashion and lifestyle areas are connected by a park landscape with an open-air promenade. The architect's brief was to develop the Gate Avenue at DIFC into a unique cultural experience in the region and to enhance the resident and visitor experience through vibrant retail and sophisticated dining, all connected by an open-air promenade and relaxed parkland environment.

HAVER Architectural Mesh as aesthetic roof cladding
On special request of the architect, a new stainless steel mesh was developed - LARGO-PLENUS 2033. The woven stainless steel mesh elements were precisely cut into square, rectangular and parallelogram-shaped elements, welding spots act as the first edge protection.
The customer framed the wire mesh elements with stainless steel flat profiles.

Haver & Boecker advised the customer in detail on the edging, handling and assembly of the mesh elements before they were securely packed and shipped.
City
Dubai, United Arab Emirates
Application
façade, ceiling
Architect
Project Sheet