Norwegian start-up revolutionises the water treatment sector
Achieving "Mission Zero" through wastewater?
The Norwegian start-up renasys has made it its mission to transform water filtration and wastewater treatment. A newly developed, innovative filtration system removes 99% of dirt particles and suspended matter over 5 microns in size from the water.
80% of the world's wastewater is released into the environment untreated, polluting our rivers, seas and oceans (source: UN WWDR 2017). One consequence of this is that some 4.5 billion people around the world use contaminated, unclean water (source: IEA). This significantly increases the risk of serious health problems. For example, diseases such as dysentery, typhus, cholera and polio are far more common in countries with poor drinking water quality than in those with clean drinking water. It would cost 8.2 trillion US dollars to modernise and sustainably restructure the global water infrastructure (source: OECD ).
With the global population continually growing, industrial expansion progressing and laws becoming ever tighter, wastewater treatment plants and their operators are compelled to improve their water treatment systems. The start-up renasys is based in Norway, where it also focuses its work: after all, Norway's plan alone of further developing and modernising the existing water infrastructure between 2021 and 2040 will require some 17.6 million US dollars of investment. The country currently has around 2,000 wastewater treatment plants (source: Norsk Vann), 93% of which are purely municipal treatment systems, i.e. systems that are only used locally in one place and are not connected to the central water supply systems. In addition, 55% of Norwegian wastewater treatment plants no longer meet the more stringent legal regulations and requirements (source: Norsk Vann).
renasys's mission is to preserve, protect and defend the world's most valuable resource. As part of their joint 'Mission Zero', renasys and Haver & Boecker have come together as strategic partners and developed a filtration system that removes 99% of wastewater particles over 5 microns in size. This system enables the start-up to achieve a far higher filtration and separation level than legally required in Norway. As a result, the solution is more than promising and can also be transferred to other sectors and areas of use. For example, even today, the innovative renasys system is not only successfully used in wastewater treatment plants but also in aqua farms. It could also potentially help transform wastewater treatment in the agricultural and shipping sectors as well as in the textile industry and industrial consumer goods production.
renasys's work is helping achieve a sustainable circular economy in the water industry and preparing current infrastructures for the future. Furthermore, existing wastewater treatment plants could act as energy suppliers as the filtered particles could be converted into energy and heat through the use of biogas systems, for example. As the primary energy required to do this is already found in the wastewater, no additional energy input would be needed. The amount of energy potentially generated would more than cover the wastewater treatment plants' needs and the excess energy could be used elsewhere. The CO2 equivalent emissions would therefore be zero, making the wastewater treatment plants climate neutral or even climate positive. At present, Europe's wastewater treatment plants alone use the same amount of energy as 55 million people, equating to around 12.3% of the continent's population (source: German Statistical Office). The CO2e savings therefore play an important role in decarbonising the water and wastewater sector. Energy-producing wastewater treatment plants also reduce the dependency on fossil fuels.
But how exactly does the renasys system work and how can it filter so many more particles from the water?
At the heart of the filtration system is a very special metal filter mesh. Here at Haver & Boecker, we have been working with renasys on new technologies for water and liquid filtration since 2018 within the scope of our strategic partnership. The technical solution centres on our patented MINIMESH® RPD HIFLO-S filter weave. This special filter weave has an innovative three-dimensional mesh structure and pore geometry, which significantly increases the porosity within the same area and enables double the flow rate of standard weaves with the same pore size. In cooperation with renasys, an innovative, closed-loop wastewater filtration solution was therefore developed that is both efficient and scalable.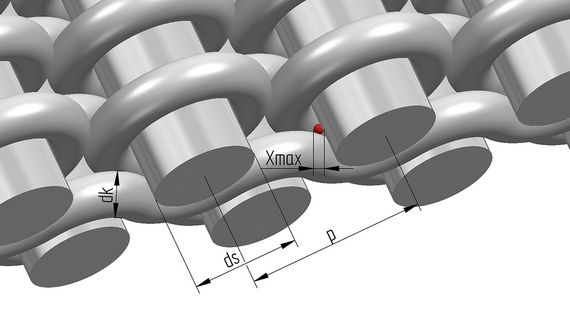 In addition to the aforementioned properties, the three-dimensional, high-performance metal filter mesh is also characterised by higher stability and durability. This is where the MINIMESH® RPD HIFLO-S weave's outstanding separation performance and dirt absorption capacity come in as these promote longer filter service lives and usage intervals. As the filter mesh's underlying structure prevents it from becoming blocked as quickly, longer and more efficient filtration phases are possible between the cleaning and backwashing intervals.
In addition, the RPD HIFLO-S filter weaves can be made from comparatively thick wires despite being fine pored. This not only has a positive impact on the costs with regard to the standard stainless steel alloys but also makes it possible to use highly corrosion and temperature-resistant special materials, such as duplex/super duplex, Alloy 310 S, Inconel 600, Hasteloy C22 or titanium, which would otherwise not be suitable for use for creating such fine pores.
As a further benefit, the pore sizes of the MINIMESH® RPD-HIFLO-S filter weaves can be precisely varied between 5 and 40 microns depending on the application. This enables the desired filtration processes to occur reliably, efficiently and precisely every time. The filter elements used also impress with excellent long-term stability and a long service life.
In cooperation with renasys...
...we've taken the first step towards sustainable, closed-loop water treatment. Our advanced renasys water treatment systems not only enable us to make an important contribution to global climate and water protection, but also show that, as a global community, we can use knowledge, technical innovation and passion to face the greatest challenges of the upcoming climate transformation.
Here at Haver & Boecker, we are proud to work with partners like renasys to actively shape the road to a more sustainable future with our innovative wire mesh and filter solutions.