Maison des Spécialistes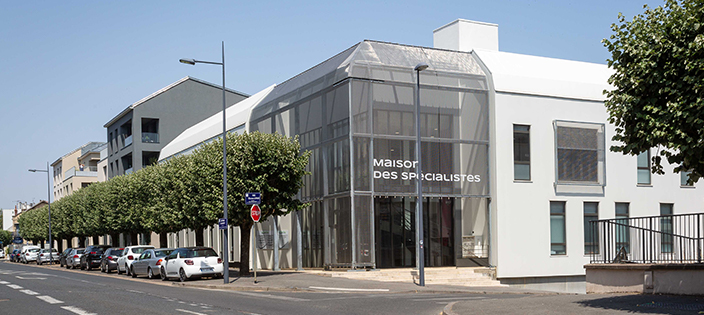 On the grounds of the former Colbert Hospital in Nerves, France, the new medical centre "Maison des Spécialistes" opened in 2017. Up to ten medical specialists from different fields meet the demand for high-quality medicine in view of a generally growing shortage of doctors and an increasingly ageing population.
HAVER Architectural Mesh: aesthetic cladding and sun protection at the same time
The architectural office Atelier Bentejac placed particular emphasis on the building's representative external appearance when planning the new medical centre. The entrance area is covered with HAVER Architectural Mesh type EGLA-TWIN 4253, which perfectly matches the architect's design. The EGLA-TWIN mesh type is characterised by its smooth surface on one side, which reflects the light across a very wide plane. For façades, EGLA-TWIN is particularly popular due to its solar protection properties and its filigree and fabric-like appearance.
Due to the transparent characteristic of the wire mesh, the reception area behind the mesh elements is protected on the one hand from direct sunlight and on the other hand, it is supplied with sufficient daylight.
Sixteen 10 m long and 2.50 m wide ready-to-install wire mesh elements were installed by Haver & Boecker. The elements were attached by using the proven mounting system of flat tension profiles, clevis bolts and pressure springs.

Photo: © Thierry Bonnat
City
Nerves, France
Application
façade, sun protection
Object Type
office buildings, hospitals
Mesh Type
Architect
Project Sheet