Reference projects using HAVER Architectural Mesh
As we all know, a picture is worth a thousand words. Therefore, it is best to form your own picture of our diverse wire meshes - and let yourself be inspired by projects that have already been implemented. Each of them contains all the expertise from hundreds of projects and more than 130 years of experience in the production and processing of wire mesh. Always with the aim of achieving the best result for our customers.
In our extensive and well-stocked reference overview, you will find many successfully completed projects using HAVER Architectural Mesh. Convince yourself of the variety of applications and the quality of our wire mesh and let the projects we have already completed show you the high standards of our work.
Technolit Großenlüder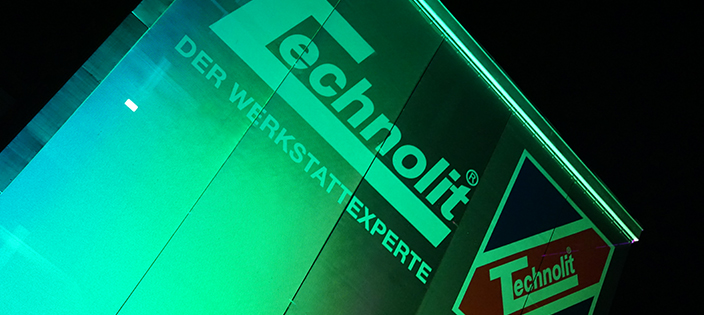 Staircase cladding with HAVER Architectural Mesh- painted and illuminated.

The new building extension of Technolit GmbH, the welding and workshop expert in the hessian Town Großenlüder, received a façade cladding with HAVER Architectural Mesh to visual enhance the optical appearance of the external staircase.

Due to the fact, that the staircase should be used as a recreation area for the staff as well, the architects Staubach + Partner searched for a façade cladding that is on the one hand visually appealing and on the other hand ensures optimum air circulation.

The architects decided on a semitransparent wire mesh by HAVER & BOECKER. The chosen HAVER Architectural Mesh EGLA-TWIN 4253 with its smooth surface on one side reflects light homogenously. To enhance the public image of the company, the wire mesh cladding received a painted logo and an illumination. 11 LED-Liners are positioned at the base of the mesh cladding to illuminate the mesh façade. Only one LED-Liner is necessary to illuminate the total height (17m) of the façade.

HAVER & BOECKER supplied 276 m² ready to install mesh elements with painting and arranged the wire mesh assembly with the commissioning as well as the programming of the wire mesh illumination.
City
Großenlüder, Germany
Application
façade, illumination, coloring
Object Type
office buildings
Mesh Type
Architect
Project Sheet