Reference projects using HAVER Architectural Mesh
As we all know, a picture is worth a thousand words. Therefore, it is best to form your own picture of our diverse wire meshes - and let yourself be inspired by projects that have already been implemented. Each of them contains all the expertise from hundreds of projects and more than 130 years of experience in the production and processing of wire mesh. Always with the aim of achieving the best result for our customers.
In our extensive and well-stocked reference overview, you will find many successfully completed projects using HAVER Architectural Mesh. Convince yourself of the variety of applications and the quality of our wire mesh and let the projects we have already completed show you the high standards of our work.
SANRAL - New Western Region Office Building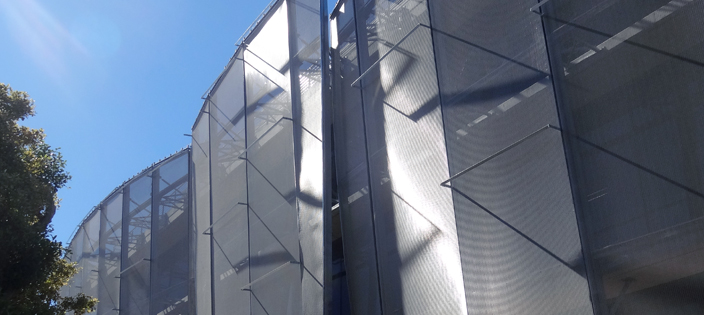 Sunscreen façade with a customized architectural mesh for the office building of the South African National Roads Agency Limited (SANRAL) in Bellville, South Africa.

SANRAL - the South African National Roads Agency Limited - is responsible for the management, maintenance and development of the South African road network. Their newest office building is located in Bellville, a borough of Cape Town. With an average of 300 days of sunshine a year, the region around Cape Town is one the sunniest regions in the world. Therefore, it is no surprise that the sun protection was an important issue for SANRAL´s new office building.

The new office building near Cape Town, should receive a functional and at the same time decorative exterior façade cladding. MAC Architects decided on a partial mesh façade with HAVER Architectural Mesh. In addition to its aesthetic appeal, the mesh façade should also act as an effective sun protection for the offices behind it.

HAVER & BOECKER, together with the architectural firm, developed the new wire mesh EGLA-DUO 4222. This mesh type is made from round and flat wires and provides an extensive brilliance. With an open area of 46 % it provides on the one hand effective shading and on the other hand it ensures a good view from inside to outside.

The SANRAL office building gets its distinctive character due to the individual form of the façade cladding, which consists of 1585 m² HAVER Architectural Mesh. Due to the special geometry of the façade areas the 66 mesh elements were supplied ready-to-install with partially curved sides and accordingly adapted edgings.
City
Bellville, Cape Town, South Africa
Application
façade, sun protection
Object Type
office buildings
Mesh Type
Architect
Mesh
Project Sheet