Reference projects using HAVER Architectural Mesh
As we all know, a picture is worth a thousand words. Therefore, it is best to form your own picture of our diverse wire meshes - and let yourself be inspired by projects that have already been implemented. Each of them contains all the expertise from hundreds of projects and more than 130 years of experience in the production and processing of wire mesh. Always with the aim of achieving the best result for our customers.
In our extensive and well-stocked reference overview, you will find many successfully completed projects using HAVER Architectural Mesh. Convince yourself of the variety of applications and the quality of our wire mesh and let the projects we have already completed show you the high standards of our work.
SANRAL - New Western Region Office Building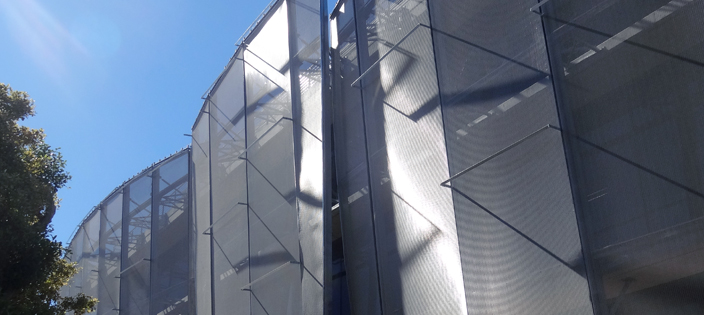 Sonnenschutz-Fassade mit neu entwickeltem Architekturgewebe für das Bürogebäude der South African National Roads Agency Limited (SANRAL) im südafrikanischen Bellville.

SANRAL – die South African National Roedas Agency Limited - ist verantwortlich für die Verwaltung, Pflege und den Ausbau des südafrikanischen Straßennetzes. Ihr neuestes Bürogebäude befindet sich in Bellville, einem Stadtbezirk von Kapstadt. Mit durchschnittlich 300 Sonnentagen im Jahr ist diese Region eine der sonnigsten auf der Welt. Deshalb ist es nicht verwunderlich, dass bei dem Bürogebäude der Firma SANRAL der Sonnenschutz ein wichtiges Thema war.

Für das neue Bürogebäude in der Nähe von Kapstadt wurde eine funktionale als auch repräsentative Außengestaltung gesucht. Die verantwortlichen Architekten von MAC Architects entschieden sich für eine partielle Gewebefassade mit HAVER Architekturgewebe. Neben den optischen Vorzügen fungiert die Gewebeverkleidung als effektiver Sonnenschutz für die dahinterliegenden Büroräume.

Speziell für dieses Projekt entwickelte HAVER & BOECKER zusammen mit dem Architektenteam das Architekturgewebe EGLA-DUO 4222. Dieser Gewebetyp aus Rund- und Flachdrähten besitzt ein besonders flächiges Erscheinungsbild. Mit einer offenen Fläche von 46 % ist es feinmaschig genug, um für eine effektive Verschattung zu sorgen, zeitgleich bietet die Gewebefläche jedoch eine gute Durchsicht von innen nach außen.

Durch die individuell geformte Gewebefläche aus insgesamt 1.585 m² HAVER Architekturgewebe erhält das SANRAL Bürogebäude seinen unverwechselbaren Charakter. Aufgrund der speziellen Geometrie der Fassadenflächen wurden die 66 Gewebeelemente zum Teil mit gerundeten Randbereichen und entsprechenden Einfassungen geliefert.
City
Bellville, Kapstadt, Südafrika
Application
Fassade, Sonnenschutz
Object Type
Büro- / Geschäftshäuser
Mesh Type
Architect
Gewebe
Project Sheet