Reference projects using HAVER Architectural Mesh
As we all know, a picture is worth a thousand words. Therefore, it is best to form your own picture of our diverse wire meshes - and let yourself be inspired by projects that have already been implemented. Each of them contains all the expertise from hundreds of projects and more than 130 years of experience in the production and processing of wire mesh. Always with the aim of achieving the best result for our customers.
In our extensive and well-stocked reference overview, you will find many successfully completed projects using HAVER Architectural Mesh. Convince yourself of the variety of applications and the quality of our wire mesh and let the projects we have already completed show you the high standards of our work.
École Nationale d´ Administration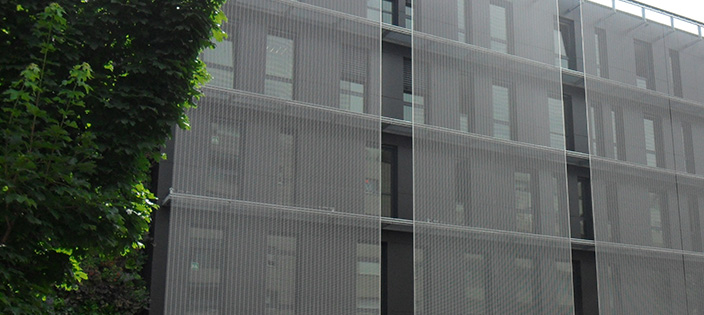 Wire mesh cladding with architectural mesh DOKA-BERRETTE 8915.
Even elite universities for administrative officer have to be expanded from time to time. The French elite university for administrative office "École Nationale d´ Administration"(ENA) in Strasbourg received a new building in 2011.

The west façade of the new building got a wire mesh façade made from architectural wire mesh DOKA-BARRETTE 8915. The whole façade consist of nine stainless steel wire mesh elements, each element in dimension of approx. 12.8 m x 4 m.

The wire mesh cladding is used as an effective sun screen. The woven wire mesh breaks and filters sunrays and behind the screen a comfortable, fresh and light internal climate is created.

In total HAVER & BOECKER delivered 372 m² of wire mesh type DOKA-BARRETTE 8915, inclusive the mounting system of round bars, eyebolts and pressure springs.


City
Strasbourg, France
Application
façade, sun protection
Object Type
educational institutions
Architect
Project Sheet