Reference projects using HAVER Architectural Mesh
As we all know, a picture is worth a thousand words. Therefore, it is best to form your own picture of our diverse wire meshes - and let yourself be inspired by projects that have already been implemented. Each of them contains all the expertise from hundreds of projects and more than 130 years of experience in the production and processing of wire mesh. Always with the aim of achieving the best result for our customers.
In our extensive and well-stocked reference overview, you will find many successfully completed projects using HAVER Architectural Mesh. Convince yourself of the variety of applications and the quality of our wire mesh and let the projects we have already completed show you the high standards of our work.
EUMETSAT Rechenzentrum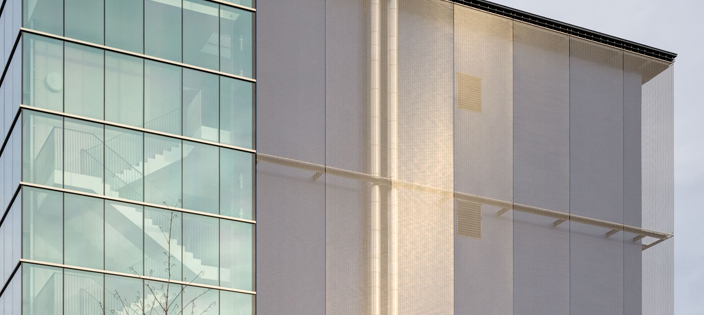 Die europäische Organisation für die Nutzung meteorologischer Satelliten, EUMETSAT, erweitert ihren Sitz in Darmstadt um ein neues Rechenzentrum. Das Rechenzentrum soll zum einen den aktuellen Stand der Technik entsprechen und zum anderen auch eine anspruchsvolle Außenwirkung besitzen. Aus diesen Gründen entschied man sich für die Verkleidung der Fassade mit dem Architekturgewebe MULTI-BARRETTE 8123 von HAVER & BOECKER.


Die Metallgewebefassade

Das Edelstahlgewebe erzeugt – aufgrund der großen offenen Fläche – eine optisch leicht wirkende, transparente Hülle, die je nach Sonnenstand unterschiedlichste metallische Lichtreflektionen hervorbringt.

Die metallische Außenhaut besteht aus einzelnen Gewebeelementen mit einem Standardmaß von 20 m (Höhe) x 2,50 m (Breite). Insgesamt 44 Elemente wurden mit dem bewährten Befestigungssystem von Rundstangen, Augenschrauben und Druckfedern an die bestehende Fassade montiert.
Eine Besonderheit dieser Gewebefassade sind die an der unteren Befestigung um 90° umgelenkten und zur Fassadenwand gespannten Gewebebahnen. Durch das Umspannen der Bahnen wird der horizontale Abstand zwischen der Gewebefassade und der tatsächlichen Gebäudewand vom Gewebe geschlossen.

Auch das Vordach wird von dem Metallgewebe komplett erfasst. Das Drahtgewebe umläuft alle fünf Flächen des Vordachs, um den Eindruck der einheitlichen Gebäudehülle zu verstärken.

Um auch bei schweren Gewittern gute Sicherheit bieten zu können wurden Blitzableiter an das Gewebe angebracht. So sind alle einzelnen Gewebebahnen miteinander verbunden, um bei einem Blitzeinschlag die Energie in das Erdreich ableiten zu können.

Im Vorfeld der gesamten Projektausführung wurde in enger Zusammenarbeit mit dem Architekten und Generalunternehmer die aufwendige Unterkonstruktion von den Drahtwebern konstruiert und berechnet.

HAVER & BOECKER lieferte insgesamt 1.660 m² Metallgewebe MULTI-BARRETTE 8123 und übernahm die Montage von Teilen der Unterkonstruktion sowie die Montage der Gewebeelemente.
City
Darmstadt, Deutschland
Application
Fassade, elektromagnetische Abschirmung
Object Type
Rechenzentren
Mesh Type
Architect
Project Sheet