Reference projects using HAVER Architectural Mesh
As we all know, a picture is worth a thousand words. Therefore, it is best to form your own picture of our diverse wire meshes - and let yourself be inspired by projects that have already been implemented. Each of them contains all the expertise from hundreds of projects and more than 130 years of experience in the production and processing of wire mesh. Always with the aim of achieving the best result for our customers.
In our extensive and well-stocked reference overview, you will find many successfully completed projects using HAVER Architectural Mesh. Convince yourself of the variety of applications and the quality of our wire mesh and let the projects we have already completed show you the high standards of our work.
Parkhaus St. Catharines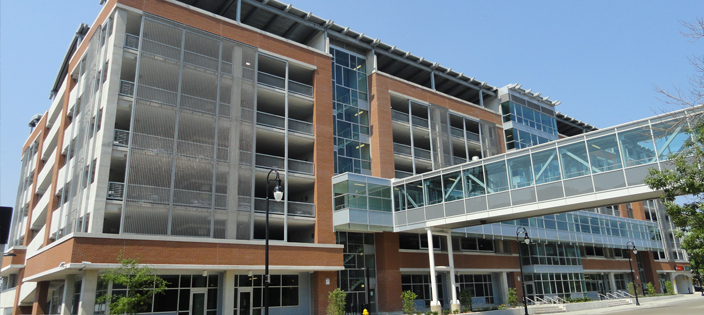 Ein mit den LEED® Silver-Zertifizierung ausgezeichnetes Parkhaus steht im wirtschaftlichen Zentrum von St. Catharines in der Provinz Ontario in Kanada. Das Architekturbüro Macdonald Zuberec Ensslen Architects (mze architects) entwarf dieses umweltfreundliche Parkhaus und ersetzte damit das 1975 erbaute Parkhaus mit 600 neuen Parkplätzen.
Parkhäuser und Autos haben für uns normalerweise wenig mit Umweltfreundlichkeit und Nachhaltigkeit zu tun. Jedoch gibt es einen Zusammenhang zwischen dieser vermeintlich gegensätzlichen Wortkonstellation.

Voraussetzung für das Erreichen dieses LEED®-Status war unter anderem die hohe Recyclingfähigkeit der verwendeten Baumaterialien. Ein Teil dieser Nachhaltigkeitsstrategie sind die Architekturgewebe aus Edelstahl von HAVER & BOECKER. Denn auch die Gewebefassade aus Drahtgewebe liefert einen Beitrag zur positiven energetischen Gebäudebilanz des Parkhauses, da die Gewebefassade aus über 90 % recycelten Materialien angefertigt werden kann. Durch die offene Fläche unterstützen sie die natürliche Belüftung und Belichtung im Innern des Parkhauses und reduzieren somit die notwendigen Anlagen zur Beleuchtung und Belüftung und schonen die Umwelt. Zusätzlich fungiert sie als effektive Absturzsicherung für Personen.

Insgesamt sind 1310 m² des Edelstahlgewebes DOGLA-TRIO 1010 in diesem Parkhaus verbaut. Durch die Drahtstärke und durch die besondere Webstruktur ist der Gewebetyp DOGLA-TRIO 1010 ein sehr robustes und stabiles Gewebe, welches gleichzeitig eine hohe Transparenz aufweist.

600 m² dieses Architekturgewebes befinden sich insgesamt an der Parkhausfassade. Im Innern des Gebäudes dienen zusätzlich 470 m² Brüstungsfüllungen aus Drahtgewebe als Absturzsicherungen. Zusätzlich sind 240 m² Edelstahlgewebe in den Abmessungen 25 x 2,40 m in den vier Treppenhäusern des Parkhauses verbaut worden.

Das 30 000 m² umfassende Parkhaus im wirtschaftlichen Zentrum der Stadt stellt einen wichtigen Schritt für den Wandel der Innenstadt dar. Um das wirtschaftliche Leben der Region zu fördern, wurden im Erdgeschoss des Parkhauses zusätzliche Mietflächen für künftige Geschäfte vorgesehen.

2012 gewann das Parkhaus den Ontario Concrete Associations Award im Bereich Sustainable Concrete.
City
St. Catharines, Ontario, Kanada
Application
Fassade, Absturzsicherung
Object Type
Parkhäuser
Architect
Gewebe
Project Sheet