Reference projects using HAVER Architectural Mesh
As we all know, a picture is worth a thousand words. Therefore, it is best to form your own picture of our diverse wire meshes - and let yourself be inspired by projects that have already been implemented. Each of them contains all the expertise from hundreds of projects and more than 130 years of experience in the production and processing of wire mesh. Always with the aim of achieving the best result for our customers.
In our extensive and well-stocked reference overview, you will find many successfully completed projects using HAVER Architectural Mesh. Convince yourself of the variety of applications and the quality of our wire mesh and let the projects we have already completed show you the high standards of our work.
1 Queen Street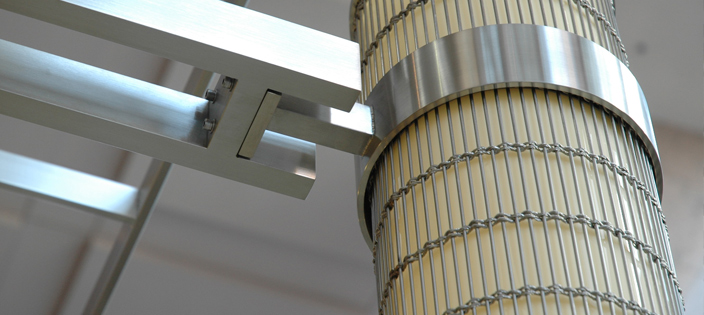 The flexible cables of all MULTI-BARRETTE specifications allow for very narrow radii. In this application they enclosed cylindrical lighting fixtures.

This project in the lobby of "1 Queen Street" building in Toronto also includes a gate made from architectural mesh MULTI-BARRETTE 8123.

HAVER & BOECKER supplied cu-to-size piece. The final fabricationg and installation was conducted by Soheil Mosun.
City
Toronto, Canada
Application
free figuration
Object Type
object design
Mesh Type
Architect
Project Sheet