Reference projects using HAVER Architectural Mesh
As we all know, a picture is worth a thousand words. Therefore, it is best to form your own picture of our diverse wire meshes - and let yourself be inspired by projects that have already been implemented. Each of them contains all the expertise from hundreds of projects and more than 130 years of experience in the production and processing of wire mesh. Always with the aim of achieving the best result for our customers.
In our extensive and well-stocked reference overview, you will find many successfully completed projects using HAVER Architectural Mesh. Convince yourself of the variety of applications and the quality of our wire mesh and let the projects we have already completed show you the high standards of our work.
Burg Vlotho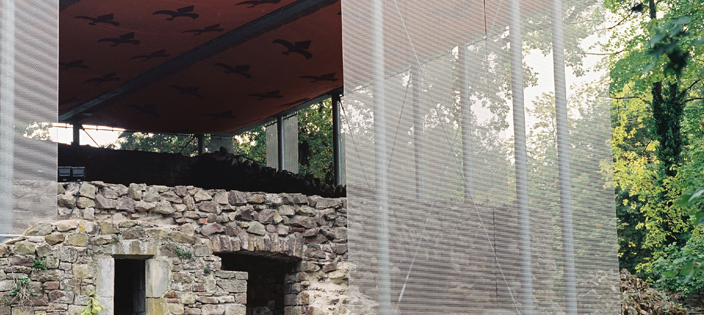 "Wir geben einer alten Burg eine neue, spannende Geschichte." LOMA Architekten.

Die mittelalterliche Ruine wurde in Teilen mit Stahltragwerk rekonstruiert und das Ensemble um neue Gebäude ergänzt. So wurden der Palast, einige Brücken und der neue Sendeturm mit dem Drahtgewebe EGLA-TWIN 4253 verkleidet, die das Volumen des Baukörpers nachzeichnen und den Charakter des Mauerwerks auf zeitgemässe Weise unterstreichen.

Das Projekt umfasste neben der Montage durch ein HAVER & BOECKER Team auch die Entwicklung geeigneter Befestigungstechniken.
City
Vlotho, Deutschland
Application
freie Gestaltung, Bauen im Bestand
Object Type
Kultur- / Kongresszentren
Mesh Type
Architect
Project Sheet