Reference projects using HAVER Architectural Mesh
As we all know, a picture is worth a thousand words. Therefore, it is best to form your own picture of our diverse wire meshes - and let yourself be inspired by projects that have already been implemented. Each of them contains all the expertise from hundreds of projects and more than 130 years of experience in the production and processing of wire mesh. Always with the aim of achieving the best result for our customers.
In our extensive and well-stocked reference overview, you will find many successfully completed projects using HAVER Architectural Mesh. Convince yourself of the variety of applications and the quality of our wire mesh and let the projects we have already completed show you the high standards of our work.
66 Logements à Reims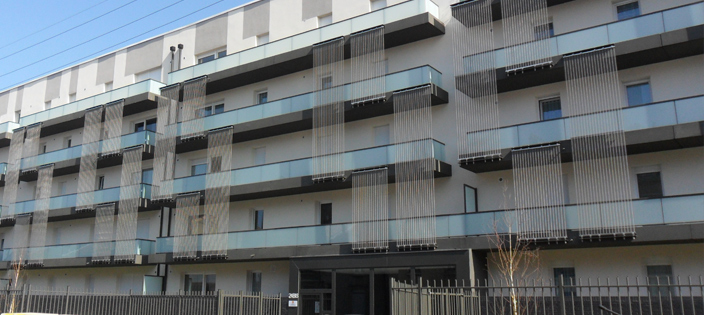 Architectural wire mesh has not only a functional effect but also a decorative one. That also know PACE Architects from France. They used stainless steel wire mesh DOKA-BARRETTE 8914 only as a decorative element for an apartment building in Reims, France.

Therefor the wire mesh elements <link _top>DOKA-BARRETTE 8914 with a width of 1.50 m and different lengths were tensioned above one till two floors between the first floor and the third floor.

There is a nice side effect. The wire mesh elements with the different lengths of 3 m till 5 m break and filter sunrays and create a small sun protection screen.

In total HAVER & BOECKER delivered 474 m² of wire mesh in 70 ready-to-install elements, inclusive the <link _top solutions for wire mesh>mounting system of round bars, eyebolts and pressure springs.
City
Reims, France
Application
façade, sun protection
Object Type
housing
Architect
PACE Architects
Project Sheet