Reference projects using HAVER Architectural Mesh
As we all know, a picture is worth a thousand words. Therefore, it is best to form your own picture of our diverse wire meshes - and let yourself be inspired by projects that have already been implemented. Each of them contains all the expertise from hundreds of projects and more than 130 years of experience in the production and processing of wire mesh. Always with the aim of achieving the best result for our customers.
In our extensive and well-stocked reference overview, you will find many successfully completed projects using HAVER Architectural Mesh. Convince yourself of the variety of applications and the quality of our wire mesh and let the projects we have already completed show you the high standards of our work.
Parkhaus Messe Bologna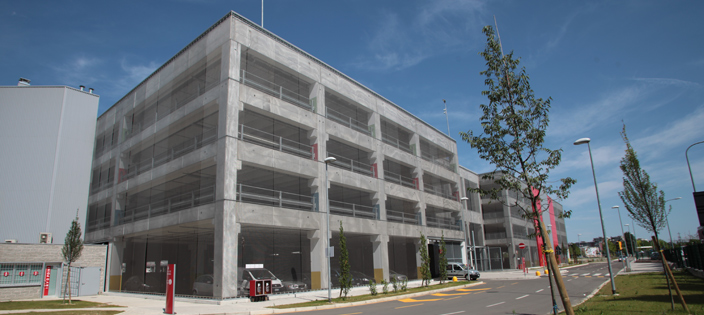 Dass ein Parkhaus nicht nur funktionell, sondern auch architektonisch ansprechend sein kann, zeigt das neue Parkhaus der Messe Bologna. Mit Architekturgewebe von HAVER & BOECKER erhielt der Neubau eine Fassade, die die Vorteile von Transparenz und Design auf einzigartige Weise vereint.

Durch den Neubau - einst ein einfacher Parkplatz - wurde nicht nur dringend benötigter Platz geschaffen, sondern das Gebäude fügt sich auch nahtlos in die vorhandene Gestaltung der Messe Bologna ein. Einen maßgeblichen Anteil trägt das verwendete Architekturdrahtgewebe.

Nachdem es bereits bei der zweistöckigen Messehalle 16/18 Verwendung fand, lag es nahe, dieses auch für das Parkhaus zu verwenden. Doch das war nicht der einzige Grund für die Fassade aus Drahtgewebe. Bei der erneuten Entscheidung war unter anderem wichtig, dass die fassadenhoch gespannten Elemente ohne sichtbare Unterbrechungen ausgeführt werden konnten, denn die Unterkonstruktion besteht im Wesentlichen aus den oberen und unteren Anbindungspunkten.


Die Metallgewebefassade aus Architekturgewebe

Die daraus entstehende Gebäudehülle mit ihrer Transparenz und den Reflexionen setzt optische Akzente und sorgt gleichzeitig durch die offenen Maschen des Gewebes im Parkhaus für eine ausreichende Belüftung. Darüber hinaus bleibt das Gebäude für die Besucher als Parkhaus erkennbar.

Verbaut wurden insgesamt über 9.000m² des Gewebetyps EGLA-MONO 4251. Die offene Fläche von ca. 69% erlaubt einerseits die für das Parkhaus erforderliche Luftzirkulation, andererseits erzeugt sie außergewöhnliche Lichtreflexionen, die dem Gebäude ein besonders hochwertiges Erscheinungsbild geben.

Die verwendeten Regelelemente mit einer Höhe von 12,20 m und einer Breite von 2,20 m wurden von HAVER & BOECKER einbaufertig inklusive der kompletten Spanntechnik aus Flachspannkante, Gabelschrauben und Druckfedern geliefert. Daraus resultierte eine besonders einfache und zeitsparende Montage. Der korrosionsbeständige Edelstahldraht garantiert neben der hochwertigen Optik eine lange Lebensdauer der Konstruktion.

Die Gesamtmaße des Komplexes sind beeindruckend: 140 Meter Breite, 220 Meter Länge und fünf Ebenen bieten jede Menge Platz für Messebesucher.
City
Bologna, Italien
Application
Fassade
Object Type
Parkhäuser
Architect
TECNOPOLIS S.p.a.
Gewebe
Project Sheet