Reference projects using HAVER Architectural Mesh
As we all know, a picture is worth a thousand words. Therefore, it is best to form your own picture of our diverse wire meshes - and let yourself be inspired by projects that have already been implemented. Each of them contains all the expertise from hundreds of projects and more than 130 years of experience in the production and processing of wire mesh. Always with the aim of achieving the best result for our customers.
In our extensive and well-stocked reference overview, you will find many successfully completed projects using HAVER Architectural Mesh. Convince yourself of the variety of applications and the quality of our wire mesh and let the projects we have already completed show you the high standards of our work.
Transparente Medienfassade H&B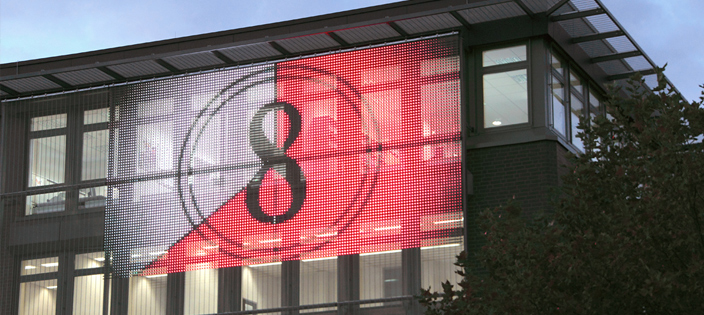 Das Verwaltungsgebäude der Drahtweberei in Oelde wurde 2009 erweitert und um eine 4. Etage aufgestockt. In diesem Zuge erhielt das Gebäude eine Fassadenverkleidung aus Edelstahlgewebe mit einer Medienfassade. Ein besonderes Highlight erhält die Fassade im oberen rechten Bereich durch die transparente Medienfassade IMAGIC WEAVE®.

Transparente Medienfassade IMAGIC WEAVE®

Über eine Breite von 9 m und eine Höhe von 4,70 m wurde die Webart DOGLA-TRIO 1030 mit LED-Profilen ausgerüstet: 222 Profile von je knapp 3 m Länge wurden 74 x übereinander und 3 x nebeneinander von hinten an das Gewebe geklemmt. Durch das rückseitige Anbringen der LED-Progile bleibt das homogene Erscheinungsbild der Gesamtfassade von vorne erhalten.

Jeder der circa 10.700 LED Bildpunkte kann über 16 Millionen Farben darstellen und einzeln angesteuert werden. Die LEDs sind im Abstand von je 62,5 mm horizontal und vertikal angeordnet. Das Seitenverhältnis der Fassade ist ungefähr 2:1. Zum Vergleich: Ein neuer LCD-Fernseher hat ein Seitenverhältnis von 16:9.

Pro Segment sind acht Zuleitungen, insgesamt 24, notwendig. Alle Zuleitungen verlaufen unsichtbar durch die Profile der Unterkonstruktion, werden am Erdboden gebündelt und in den Keller geführt, in dem sich ein klimatisierter 19 Zoll Schaltschrank befindet. Alle gängigen Video- und Bildformate können, abhängig von der Auflösung und dem Seitenverhältnis, auf dem Windows-basierenden System abgespielt werden. Bei einer Größe von 42 m² ist die Anschlussleistung der gesamten Fassade mit 6,5 kW sehr gering. Einen optimalen Sichtabstand zur Medienfassade hat man bei 45 m bis 60 m.


Die Fassadenverkleidung

Nach Fertigstellung der Hochbaumaßnahmen begannen die Vorbereitungen an der Fassade, für das HAVER & BOECKER Montageteam. Für die vorgehängte Fassadenverkleidung aus insgesamt 481 m² Edelstahl-Drahtgewebe wurde zunächst eine Unterkonstruktion aus circa 16 Tonnen Stahl errichtet, an der die neun Standard-Fassadenelemente befestigt wurden. Die Gewebebahnen aus der Architekturgewebe DOGLA-TRIO 1035 sind knapp 14 m lang und 3 m breit.

Im Bereich der Erker links und rechts des Gebäudes sind die Bahnen knapp zwölf Meter lang und haben unterschiedliche Breiten. Gespannt sind sie über Flachspannkanten, Gabelschrauben und Druckfedern.
Eine Attika aus Architekturgewebe


Eine Attika aus Architekturgewebe

Das aufgestockte Gebäude hat ein umlaufendes Vordach (Attika) erhalten, aus weiteren 125 m² DOGLA-TRIO 1035. Die Elemente mit um 90° gekanteten Flachspannkanten wurden an einer Unterkonstruktion aus circa 4 Tonnen Stahl verschraubt. Die neue Fassadenansicht bietet ein homogenes Bild, das je nach Blickwinkel mehr oder weniger transparent ist. Gleichzeitig verbinden die Gewebeelemente das ursprüngliche Gebäude erfolgreich mit der neuen Erweiterung.