Reference projects using HAVER Architectural Mesh
As we all know, a picture is worth a thousand words. Therefore, it is best to form your own picture of our diverse wire meshes - and let yourself be inspired by projects that have already been implemented. Each of them contains all the expertise from hundreds of projects and more than 130 years of experience in the production and processing of wire mesh. Always with the aim of achieving the best result for our customers.
In our extensive and well-stocked reference overview, you will find many successfully completed projects using HAVER Architectural Mesh. Convince yourself of the variety of applications and the quality of our wire mesh and let the projects we have already completed show you the high standards of our work.
EUMETSAT Computing Center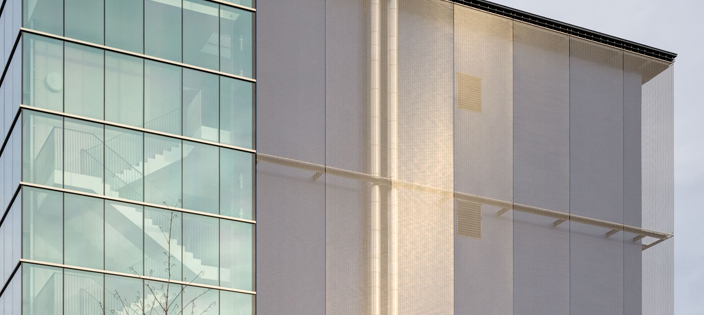 The European Organization for the Exploitation of Meteorological Satellites, EUMETSAT, extended the head office with a new data center in Darmstadt, Germany. On the one hand, the computing center should reflect the newest technology and on the other hand, the building should be an optical highlight. For this reason, the building has been cladded with architectural wire mesh type MULTI-BARRETTE 8123 by HAVER & BOECKER.


Wire mesh cladding

The architectural mesh cladding creates a light, transparent skin - mainly due to its high open area - that creates varying light reflections depending on the sun position and viewing perspective.

The metallic body shell consists of various wire mesh elements with a standard size of 20 m x 2.50 m. In total 44 wire mesh elements has been installed with the tension system of round bars, eyebolts and pressure springs.

To close the horizontal distance between the wire mesh façade and the actual building wall, the bottom side of the mesh elements is deflected by 90°. The canopy is also cladded with architectural wire mesh, which covers all five areas of the canopy to enhance the optical impression of a homogeneous façade.

To be able to provide security in case of electrical storms as well, lightning conductors were installed. All mesh elements are connected with each other to discharge the energy of thunderbolts into the earth.

In close collaboration with the architect and contractor, HAVER & BOECKER engineered and calculated the complex substructure. In total 1.660 m² of wire mesh type MULTI-BARRETTE 8123 have been delivered and installed by HAVER & BOECKER.

HAVER & BOECKER was also responsible for the complete installation of the wire mesh elements as partly of the substructure.


City
Darmstadt, Germany
Application
façade, electromagnetic shielding
Object Type
computing center
Mesh Type
Architect
Project Sheet