Reference projects using HAVER Architectural Mesh
As we all know, a picture is worth a thousand words. Therefore, it is best to form your own picture of our diverse wire meshes - and let yourself be inspired by projects that have already been implemented. Each of them contains all the expertise from hundreds of projects and more than 130 years of experience in the production and processing of wire mesh. Always with the aim of achieving the best result for our customers.
In our extensive and well-stocked reference overview, you will find many successfully completed projects using HAVER Architectural Mesh. Convince yourself of the variety of applications and the quality of our wire mesh and let the projects we have already completed show you the high standards of our work.
Ice Hockey Stadium, Bratislava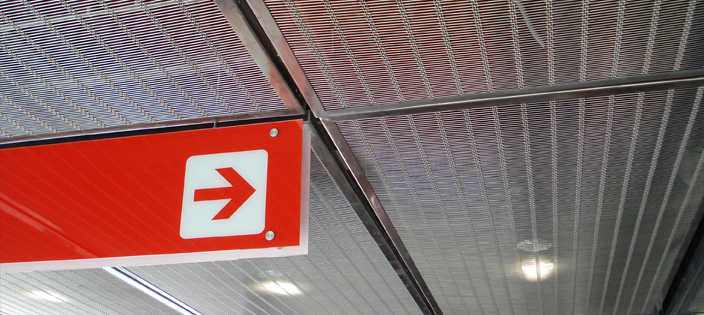 Brilliant appearance of wire mesh at the world championship in Bratislava.
The Ondrej Nepela Arena is a ice hockey stadium in the Slovak capital Bratislava. It stands at the corner Trnavská cesta and ulica Odbojárov, northeast of the historic centre in the town district of Nové Mesto.

The stadium was named Orange Arena for the period of the 75th Ice Hockey World Championship 2011 from 29 April 2011 to 15 May 2011. The second venue for the 2011 World Championship was the Steel Aréna in Košice.

For the world championship 2011 the stadium was reconstructed from April 2009 to February 2011. Beside a subterranean car park with 300 places and two training halls, the capacity of the stadium rose to 10.000 seats.

In the course of the preparations for the world championships 2011 the wire mesh DOGLA-TRIO 1011 from HAVER & BOECKER has been used for the ceiling at the Ondrej Nepela Arena.

The HAVER Architectural Mesh DOGLA-TRIO 1011 is ideal for cladding technical installations due to its semi-transparency. Due to its wire thickness and woven structure, it is a very stable wire mesh and robust enough to keep mechanical influences away from the technology above. Due to the mesh structure and the mostly flat viewing angle of ceilings, it appears almost closed when viewed from the side. With an open area of approx. 66%, it also guarantees the perfect functioning of technical systems.

In total HAVER & BOECKER delivered 350 m² architecture wire mesh <link _top>DOGLA-TRIO 1011.
City
Bratislava, Slovakia
Application
ceiling
Object Type
sports facilities
Mesh Type
Architect
Fischer s.r.o.
Project Sheet