Reference projects using HAVER Architectural Mesh
As we all know, a picture is worth a thousand words. Therefore, it is best to form your own picture of our diverse wire meshes - and let yourself be inspired by projects that have already been implemented. Each of them contains all the expertise from hundreds of projects and more than 130 years of experience in the production and processing of wire mesh. Always with the aim of achieving the best result for our customers.
In our extensive and well-stocked reference overview, you will find many successfully completed projects using HAVER Architectural Mesh. Convince yourself of the variety of applications and the quality of our wire mesh and let the projects we have already completed show you the high standards of our work.
Car Park GO Transit - Aurora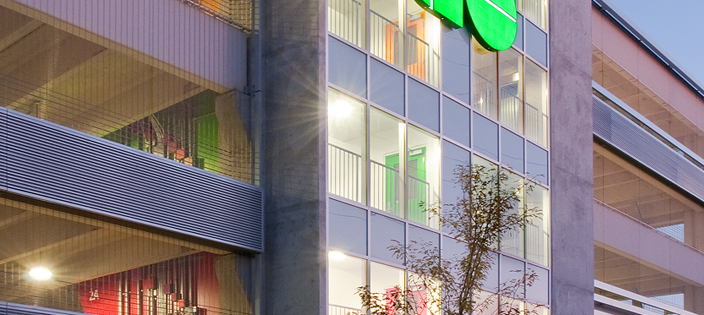 A car park for the environment - facade cladding with architectural wire mesh type DOGLA-TRIO 1010

Over 61 million passengers a year use GO Transit train and bus services. GO Transit is the public transit system located in the Greater Toronto, Hamilton and Niagara regions of Canada. The extensive network system of GO Transit spans over 11,000 square kilometers, linking Toronto to regions as far as Hamilton, Waterloo, Barrie, Peterborough, and Niagara Falls.


A car park for the environment

Adding more parking options at the GO Transit stations encourages people to use transit, which reduces congestion on the roads and helps the environment.
In March of 2010 a new parking facility was added to the Go Aurora station, located on Wellington Street in Aurora, Ontario, Canada.
It is a five-level parking structure with 866 new parking spots. Aurora GO Transit passengers now have access to more than 1,700 parking spots at the station.


Wire mesh facade

Three sides of the building facade are cladded with the architectural wire mesh type DOGLA-TRIO 1010 by W.S. Tyler Canada.
In total more than 1,300 m² of wire mesh type DOGLA-TRIO were installed. The open area of approximately 72% ensures not only the required ventilation, but also creates exceptional light reflections, giving a unique appearance of high value to the building.

Besides the function of ventilation and the optical enhancement, the wire mesh facade has yet another function; it provides fall protection for the occupants of the parkade.

The standard mesh elements have a height of 13.0m and a width of 2.6m were supplied by W.S. Tyler Canada ready for installation, complete with tensioning devices which consist of flat tension profiles, clevis screws and pressure springs.
City
Aurora, Canada
Application
façade, falling protection
Object Type
parking garages
Architect
Mesh
Project Sheet