Reference projects using HAVER Architectural Mesh
As we all know, a picture is worth a thousand words. Therefore, it is best to form your own picture of our diverse wire meshes - and let yourself be inspired by projects that have already been implemented. Each of them contains all the expertise from hundreds of projects and more than 130 years of experience in the production and processing of wire mesh. Always with the aim of achieving the best result for our customers.
In our extensive and well-stocked reference overview, you will find many successfully completed projects using HAVER Architectural Mesh. Convince yourself of the variety of applications and the quality of our wire mesh and let the projects we have already completed show you the high standards of our work.
Beachvolleyball Arena - Olympic Games 2004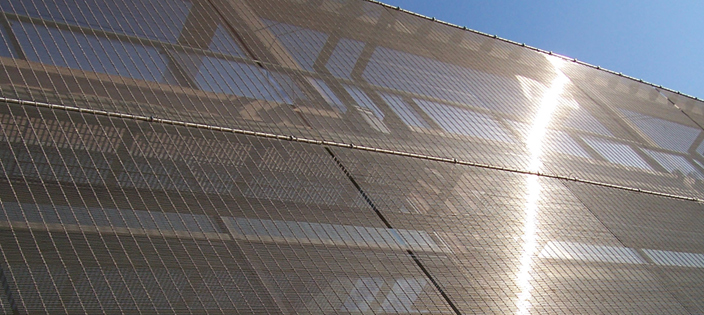 96 beachvolleyball players from around the world competed for olympic medals from August 14th to 25th, 2004 in a brand new arena, the "Olympic Beach Volleyball Centre". It was constructed on 123.000 m² at the coast of Faliro, 25 km from the Olypmic Village. The arena offers seatings for up to 9600 visitors, 110 journalists and 30 photographers.

For the cladding of the front and back facade HAVER & BOECKER supplied 730 m² of MULTI-BARRETTE 8123. The elements, 5.60 meters high and 2.40 m wide, were installed using round rods at the top and additional tensioning springs at the bottom. Intermediate mountings consisted of round rods with incorporated pendular clips.

The mesh facade is mainly used for sun protection of the "Faliro Olympic Complex" office buildings.
City
Athens, Greece
Application
sun protection
Object Type
sports facilities
Mesh Type
Architect
Project Sheet