Reference projects using HAVER Architectural Mesh
As we all know, a picture is worth a thousand words. Therefore, it is best to form your own picture of our diverse wire meshes - and let yourself be inspired by projects that have already been implemented. Each of them contains all the expertise from hundreds of projects and more than 130 years of experience in the production and processing of wire mesh. Always with the aim of achieving the best result for our customers.
In our extensive and well-stocked reference overview, you will find many successfully completed projects using HAVER Architectural Mesh. Convince yourself of the variety of applications and the quality of our wire mesh and let the projects we have already completed show you the high standards of our work.
Qatar National Convention Centre - Internal Art Wall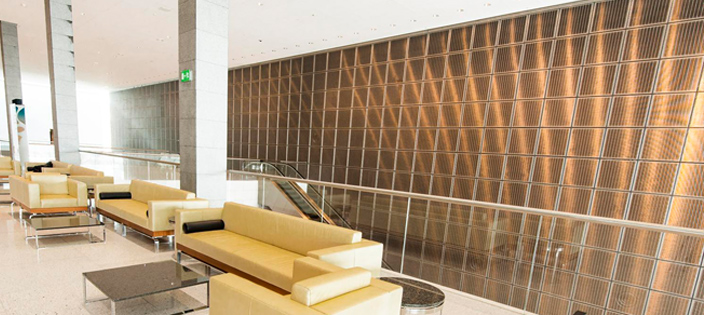 Mit insgesamt 40.000 m² Ausstellungsfläche und Räumlichkeiten für bis zu 27.000 Personen ist das Qatar National Convention Centre das größte Messezentrum in Nahen Osten. Der Gebäudekomplex in der Education City von Doha ist das erste Bauwerk seiner Art, welches nach dem Gold-Zertifizierungs-Standard "Leadership in Energy and Environment Design" (LEED) des US Green Building Council erbaut wurde.

Modernes Design mit Funktionalität und Nachhaltigkeit

Die große Internal Art Wall besteht aus zwei versetzt stehenden Wänden, die je von einer Seite komplett mit dem Edelstahlgewebe MULTI-BARRETTE 8123 verkleidet sind.

Diese Wandverkleidungen bestehen aus gekantetem Drahtgewebe, das auf edelstahlfarbige Aluminiumrahmen geklebt wurde. Die Geweberahmen mit integriertem Dämmmaterial sind von HAVER & BOECKER speziell für die dahinterliegende Klimaanlage konstruiert worden.

Architekturgewebe im Qatar National Convention Centre

Mit insgesamt 6.000 m² Architekturgewebe an Decken und Wänden ist HAVER & BOECKER im Innern des Qatar National Convention Centre vertreten. Um den exklusiven Anforderungen an die Raumwirkung gerecht zu werden, entschieden sich die zuständigen Planer für Bronzegewebe von HAVER & BOECKER. Die hochwertige Ästhetik der Architekturgewebe, sowie die guten Eigenschaften lange Lebensdauer, Nicht-Brennbarkeit, leichte Pflege und Recyclingfähigkeit vereinfachten die Entscheidung der Bauherren.

Neben der "Theater Hall", der" Conference Hall" und der "Internal Art Wall" wurden von HAVER & BOECKER einbaufertige Kassettenelemente aus Architekturgeweben auch für diverse Veranstaltungsräume angefertigt. Bei den Gewebekassetten handelt es sich um individuelle Sonderanfertigungen, um die Eckbereiche und Deckeneinbauten in jedem Raum passgenau verkleiden zu können.
City
Doha, Katar
Application
Wand, Akustik
Object Type
Kultur- / Kongresszentren
Mesh Type
Architect
Project Sheet