Reference projects using HAVER Architectural Mesh
As we all know, a picture is worth a thousand words. Therefore, it is best to form your own picture of our diverse wire meshes - and let yourself be inspired by projects that have already been implemented. Each of them contains all the expertise from hundreds of projects and more than 130 years of experience in the production and processing of wire mesh. Always with the aim of achieving the best result for our customers.
In our extensive and well-stocked reference overview, you will find many successfully completed projects using HAVER Architectural Mesh. Convince yourself of the variety of applications and the quality of our wire mesh and let the projects we have already completed show you the high standards of our work.
McGill University - Facade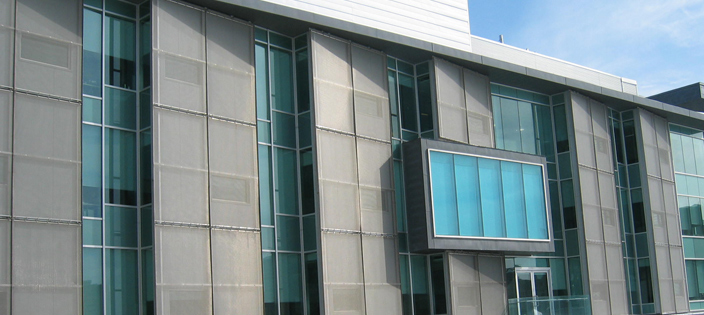 A modern wire mesh facade in the heart of old downtown Montreal.

Located amidst the Old Town, the EGLA-TWIN façade adds 21st century design to this beautiful part of Montreal. Several architectural wire cloth panels, each as a three part unit, cover the different levels of the building. Sun protection is combined with adequate transparency. The HAVER & BOECKER tensioning system using flat tension profiles and clevis screws ensures an optimum tension.

The cascade shaped façade marks the building: Rather than in a laminar looking assembly, the panels are arranged in staggered form creating an unique view when driving up or down the hill.

Elements made from the same specification, EGLA-TWIN 4313, have been used for the interior design of the building: So in the staircases.
City
Montreal, Canada
Application
façade, sun protection
Object Type
educational institutions
Architect
Mesh
Project Sheet