Reference projects using HAVER Architectural Mesh
As we all know, a picture is worth a thousand words. Therefore, it is best to form your own picture of our diverse wire meshes - and let yourself be inspired by projects that have already been implemented. Each of them contains all the expertise from hundreds of projects and more than 130 years of experience in the production and processing of wire mesh. Always with the aim of achieving the best result for our customers.
In our extensive and well-stocked reference overview, you will find many successfully completed projects using HAVER Architectural Mesh. Convince yourself of the variety of applications and the quality of our wire mesh and let the projects we have already completed show you the high standards of our work.
Okern T-Bane Station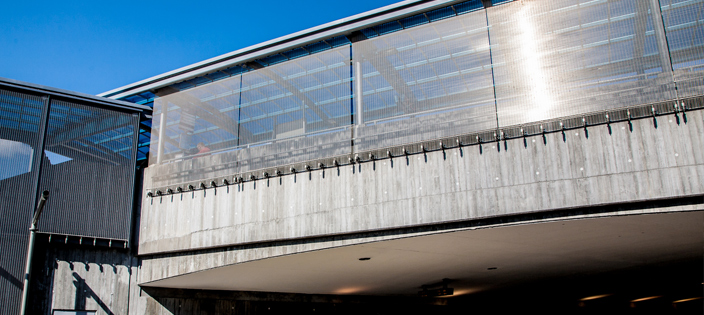 During the renovation in 2010 by the architects "Heyerdahl arkitekter AS" the station "Økern T-Bane" got a wire mesh cladding made of HAVER MULTI-BARRETTE 8130.

The railway station "Økern T-Bane" is located between the stations of Hasle and Risløkka, in the North of Oslo. The architect Guttorm Bruskeland designed the station which opened on 16 October 1966.

Wire cloth specifications of the type MULTI-BARRETTE are made from solid rods and flexible cable clusters. The rods give stability to the mesh, the cables flexibility. Architectural wire mesh claddings with MULTI-BARRETTE create a light and semitransparent skin. Depending on the viewing angle the wire mesh façade appears transparent or closed.

In total 770 m² wire mesh type MULTI-BARRETTE 8130 were installed in different sizes from one to maximum seven meters. The woven wire mesh elements were installed with partly inserted round rods and welded flat profiles.
City
Oslo, Norway
Application
façade, building redevelopment
Object Type
airports / stations
Mesh Type
Architect
Project Sheet