Reference projects using HAVER Architectural Mesh
As we all know, a picture is worth a thousand words. Therefore, it is best to form your own picture of our diverse wire meshes - and let yourself be inspired by projects that have already been implemented. Each of them contains all the expertise from hundreds of projects and more than 130 years of experience in the production and processing of wire mesh. Always with the aim of achieving the best result for our customers.
In our extensive and well-stocked reference overview, you will find many successfully completed projects using HAVER Architectural Mesh. Convince yourself of the variety of applications and the quality of our wire mesh and let the projects we have already completed show you the high standards of our work.
Guthaus Bratislava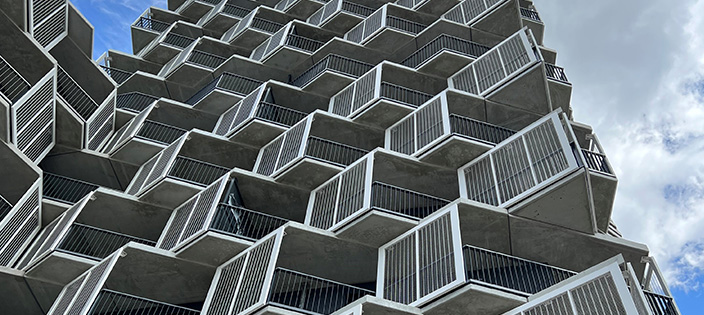 Balcony cladding made of HAVER Architectural Mesh
The residential project Guthaus has revitalised the former industrial site on Račianska Street in Bratislava with its modern flats. Designed by architect AllesWirdGut, it gives new perspective on architecture.

Nearly 300 one- to four-bedroom flats feature above-average sizes, spacious balconies, and communal facilities such as an outdoor kitchen pavilion and barbecue area, laundry facilities or a fully equipped bicycle repair shop.

The architects of AllesWirdGut focused not only on the design of the apartments but also on the façade, which is structured with striking rectangular loggias. Storey high framed elements made of HAVER Architectural Mesh DOGLA-TRIO 1022 were installed.

The mesh type DOGLA-TRIO offers an elegant appearance as a fall protection solution and meets the highest demands for safety and stability. Wire groups with a vertical structure characterize this mesh. Seen from a distance, the robust architectural mesh looks like a filigree fabric that creates privacy or transparency depending on the viewing angle. The stainless steel mesh from Haver & Boecker is maintenance-free, corrosion-resistant and can be recycled at the end of a long service life.

The housing project receives award
On Forbes.sk the project "Guthaus" 2022 was voted among the top 5 residential projects in Slovakia.