Reference projects using HAVER Architectural Mesh
As we all know, a picture is worth a thousand words. Therefore, it is best to form your own picture of our diverse wire meshes - and let yourself be inspired by projects that have already been implemented. Each of them contains all the expertise from hundreds of projects and more than 130 years of experience in the production and processing of wire mesh. Always with the aim of achieving the best result for our customers.
In our extensive and well-stocked reference overview, you will find many successfully completed projects using HAVER Architectural Mesh. Convince yourself of the variety of applications and the quality of our wire mesh and let the projects we have already completed show you the high standards of our work.
Guthaus Bratislava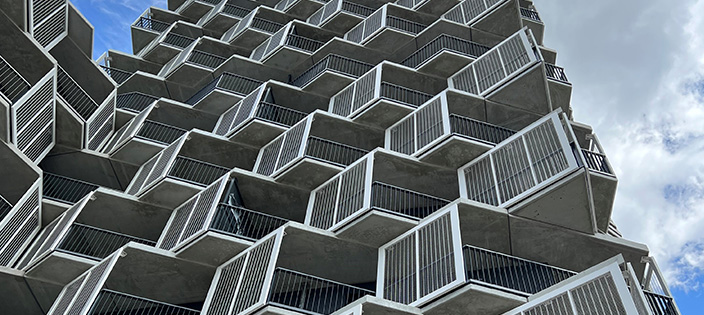 Balkonverkleidungen mit HAVER Architekturgewebe
Das Wohnprojekt Guthaus hat das ehemalige Industriegelände an der Račianska-Straße in Bratislava mit seinen modernen Wohnungen und Apartments zu neuem Leben erweckt. Konzipiert vom Architekten AllesWirdGut, eröffnet es den Anwohner eine neue Perspektive auf die Architektur.

Von den berühmten Architekten von AllesWirdGut entsteht ein modernes Wohnen mit einem in Bratislava noch nie dagewesenen Standard. Fast 300 Ein- bis Vierzimmerwohnungen verfügen über überdurchschnittliche Größen, großzügige Balkone, sowie Gemeinschaftseinrichtungen wie Außenküchenpavillon und Grillplatz, Waschsalon oder eine voll ausgestattete Fahrradwerkstatt.
Die Architekten von AllesWirdGut widmeten sich neben der Planung der Wohnungen auch der mit markanten rechteckigen Loggien gegliederten Fassade. Dort kamen geschosshohe Rahmenelemente mit dem HAVER Architekturgewebe DOGLA-TRIO 1022 zum Einsatz.
Der Gewebetyp DOGLA-TRIO bietet als Absturzsicherung eine edle Optik und erfüllt höchste Ansprüche an Sicherheit und Stabilität. Es zeichnet sich durch die Drahtgruppen mit einer vertikalen Struktur aus. Aus der Ferne betrachtet wirkt das robuste Architekturgewebe wie ein filigraner Stoff, das je nach Blickwinkel Sichtschutz oder Transparenz schafft. Das Edelstahlgewebe von Haver & Boecker ist wartungsfrei, korrosionsbeständig und kann am Ende einer langen Lebenszeit recycelt werden.
Das Wohnprojekt erhält Auszeichnung
Auf Forbes.sk wurde das Projekt "Guthaus" 2022 unter die Top 5 Wohnprojekte der Slowakei gewählt.