Reference projects using HAVER Architectural Mesh
As we all know, a picture is worth a thousand words. Therefore, it is best to form your own picture of our diverse wire meshes - and let yourself be inspired by projects that have already been implemented. Each of them contains all the expertise from hundreds of projects and more than 130 years of experience in the production and processing of wire mesh. Always with the aim of achieving the best result for our customers.
In our extensive and well-stocked reference overview, you will find many successfully completed projects using HAVER Architectural Mesh. Convince yourself of the variety of applications and the quality of our wire mesh and let the projects we have already completed show you the high standards of our work.
Delabie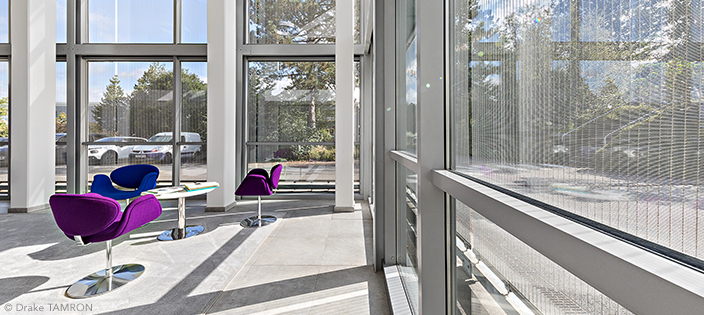 HAVER Architekturgewebe – Effektiver Sonnenschutz mit perfekter Sicht nach außen
Im französischen Friville-Escarbotin erhielt der Büro-Neubau der Firma DELABIE eine Fassadenverkleidung aus HAVER Architekturgewebe. HAVER Architekturgewebe öffnet Architekten und Planern eine Vielzahl von Gestaltungsmöglichkeiten für Außenfassaden. Dabei verbinden die Gewebeverkleidungen bei Neubau- ebenso wie bei Renovierungsprojekten anspruchsvolle Ästhetik mit hoher Funktionalität. Aus einer breit gefächerten Auswahl an unterschiedlichen Gewebetypen wählten die Architekten von A4 architectes das Architekturgewebe EGLA-MONO 4391. Überzeugt hat sie nicht nur die elegante Ästhetik der Gewebeverkleidung, sondern auch die funktionalen Eigenschaften des Metallgewebes.

Effektiver Sonnenschutz mit perfekter Sicht nach außen
Optisch erzeugen Fassadenverkleidungen mit Architekturgeweben des Typs EGLA-MONO aufgrund ihrer einseitig glatten Oberfläche ein sehr homogenes Erscheinungsbild mit flächigen Lichtreflexionen. Die semitransparente Gewebeverkleidung aus dem Edelstahlgewebe ist nicht nur reines Gestaltungselement, sondern fungiert zugleich als effektive Sonnenschutzfassade. Denn die Gewebestruktur filtert die steil einfallenden Strahlen des Sonnenlichts. Somit trägt das Sonnenschutzgewebe zu einem angenehm kühlen aber trotzdem hellen Raumklima bei. Trotz Sonnenschutzfunktion wirkt die Fassadenverkleidung aus dem Metallgewebe EGLA-MONO 4391 mit einer offenen Fläche von 52 % von Innen extrem transparent und ermöglicht eine unverstellte Sicht aus dem Innenraum hinaus auf die Straße.

Haver & Boecker lieferte konfektionierte und einbaufertige Gewebe-Elemente. Die bis zu 7,30 Meter langen und 3 Meter breiten Gewebebahnen wurden über die gesamt Fassadenhöhe gespannt und mit dem bewährten Befestigungssystem aus Flachspannkanten, Gabelschrauben und Druckfedern montiert.
Fotos: © Drake Tamron
City
Friville-Escarbotin, Frankreich
Application
Fassade, Sonnenschutz
Object Type
Büro- / Geschäftshäuser
Mesh Type
Architect
A4 architectes
Project Sheet