Reference projects using HAVER Architectural Mesh
As we all know, a picture is worth a thousand words. Therefore, it is best to form your own picture of our diverse wire meshes - and let yourself be inspired by projects that have already been implemented. Each of them contains all the expertise from hundreds of projects and more than 130 years of experience in the production and processing of wire mesh. Always with the aim of achieving the best result for our customers.
In our extensive and well-stocked reference overview, you will find many successfully completed projects using HAVER Architectural Mesh. Convince yourself of the variety of applications and the quality of our wire mesh and let the projects we have already completed show you the high standards of our work.
Pedestrian Bridge Agen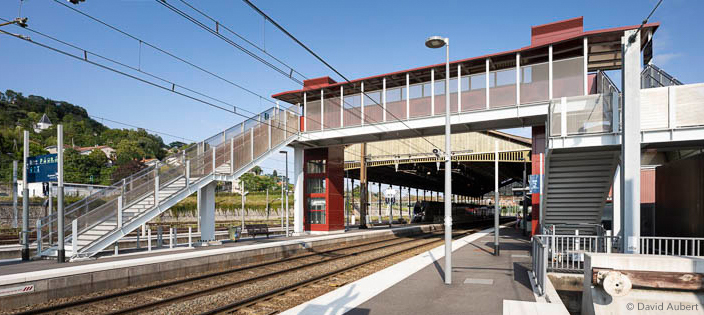 HAVER Architectural Mesh provides safety and protection while maintaining visual transparency on the pedestrian bridge at the train station in Agen, France.
As part of the station's barrier-free redesign, AREP architects designed a new metal bridge connecting the platforms of tracks 1 and 2. The 7 m high and 20 m long pedestrian bridge has 2 staircases and 2 elevators, enabling every traveler to cross the two tracks safely.

Fall protection: HAVER Architectural Mesh meets requirements for protection and safety
The sides of the bridge as well as the stairways are clad with architectural wire mesh EGLA-DUO 4222 from Haver & Boecker. This mesh type appears – due to the combination of flat wires and plain form of the round wires – as a uniform metal veil, which reflects light homogenously. With an open area of 46%, the balustrade infill panels made of stainless steel mesh EGLA-DUO 4222 provide visual protection for travelers from the outside. From the inside, however, the semi-transparent stainless steel mesh ensures an almost unobstructed view.

Perfectly tailored solution
For the entire cladding of the bridge Haver & Boecker supplied 73 ready-to-install mesh frames made of stainless steel mesh EGLA-DUO 4222. Rectangular, trapezoidal and mesh frames in special form with lengths of up to 2.4 m and widths of up to 1.3 m were manufactured for a precise fit.
Architectural wire mesh from Haver & Boecker benefits not only in terms of reliable safety and robust durability, but also in terms of sustainability. At the end of the bridge's lifetime, the stainless steel mesh can be recycled sustainably.
City
Agen, France
Application
balustrade, falling protection
Object Type
infrastructure, bridges / tunnel, airports / stations
Mesh Type
Architect
Project Sheet