Reference projects using HAVER Architectural Mesh
As we all know, a picture is worth a thousand words. Therefore, it is best to form your own picture of our diverse wire meshes - and let yourself be inspired by projects that have already been implemented. Each of them contains all the expertise from hundreds of projects and more than 130 years of experience in the production and processing of wire mesh. Always with the aim of achieving the best result for our customers.
In our extensive and well-stocked reference overview, you will find many successfully completed projects using HAVER Architectural Mesh. Convince yourself of the variety of applications and the quality of our wire mesh and let the projects we have already completed show you the high standards of our work.
Brücke Bahnhof Agen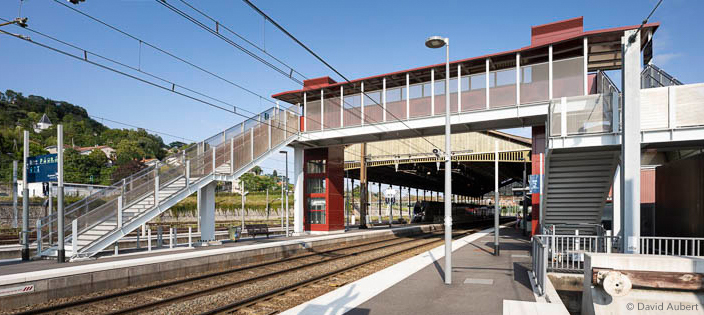 HAVER Architekturgewebe bietet Sicherheit und Schutz bei gleichzeitiger visueller Transparenz an der Fußgängerbrücke des Bahnhofs im französischen Agen.
Im Rahmen der barrierefreien Umgestaltung des Bahnhofs entwarfen die Architekten von AREP eine neue Metallbrücke, die die Bahnsteige der Gleise 1 und 2 miteinander verbindet. Die 7 m hohe und 20 m lange Fußgängerbrücke verfügt über 2 Treppen und 2 Aufzüge, die jeden Reisenden eine sichere Überquerung der beiden Gleise ermöglicht.
Absturzsicherung: HAVER Architekturgewebe erfüllt Anforderungen an Schutz und Sicherheit
Die Seiten der Brücke als auch die der Treppenaufgänge sind mit Drahtgeweberahmen von Haver & Boecker verkleidet. Zum Einsatz kam das Edelstahlgewebe EGLA-DUO 4222. Aufgrund der Kombination von Flachdrähten und der ebenen Ausprägung der Runddrähte besitzt das robuste Metallgewebe ein flächiges Erscheinungsbild mit homogenen Lichtreflektionen. Mit einer offenen Fläche von 46 % gewähren die Brüstungsfüllungen aus dem Architekturgewebe EGLA-DUO 4222 den Reisenden Sichtschutz von außen. Von innen bleibt die Durchsicht durch das semitransparente Edelstahlgewebe jedoch fast ungetrübt.

Passgenaue Lösung
Haver & Boecker lieferte für die gesamte Brückenverkleidung 73 einbaufertige Geweberahmen aus dem Edelstahlgewebe EGLA-DUO 4222. Passgenau gefertigt wurden sowohl rechteckige, trapezförmige als auch Geweberahmen in Sonderformen mit Längen von bis zu 2,4 m und Breiten bis zu 1,3 m.
Edelstahlgewebe von Haver & Boecker punktet nicht nur in Sachen zuverlässiger Sicherheit und robuster Beständigkeit, sondern auch in puncto Nachhaltigkeit. Am Ende der Brücken-Lebensdauer kann das Edelstahlgewebe nachhaltig recycelt werden.

Fotos: © David AUBERT, @ G&C_AREP conception architecturale
City
Agen, Frankreich
Application
Brüstung, Absturzsicherung
Object Type
Verkehrsbauten, Brücken / Tunnel, Flughäfen / Bahnhöfe
Mesh Type
Architect
Project Sheet