Reference projects using HAVER Architectural Mesh
As we all know, a picture is worth a thousand words. Therefore, it is best to form your own picture of our diverse wire meshes - and let yourself be inspired by projects that have already been implemented. Each of them contains all the expertise from hundreds of projects and more than 130 years of experience in the production and processing of wire mesh. Always with the aim of achieving the best result for our customers.
In our extensive and well-stocked reference overview, you will find many successfully completed projects using HAVER Architectural Mesh. Convince yourself of the variety of applications and the quality of our wire mesh and let the projects we have already completed show you the high standards of our work.
Zur Weinlese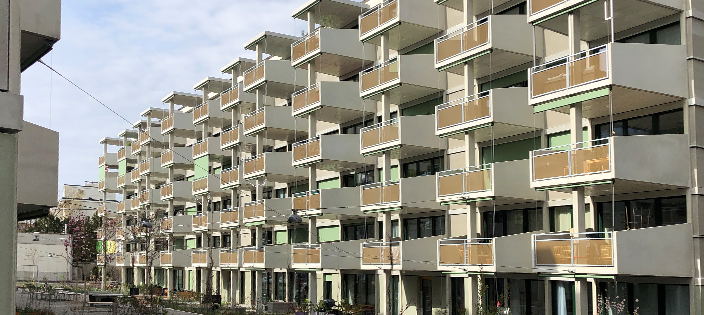 HAVER Architectural Mesh offers a secure solution for balconies and staircases
On the former site of the Volg Wineries in Winterthur, Switzerland, the architectural company Beat Rothen Architektur GmbH created a new area of residential and commercial space. The new area "Zur Weinlese" consists of 125 rental apartments and around 950 m² of commercial space.
The project is named after the wall painting "Weinlese" by the Swiss artist Heinrich Danioth, painted in 1943. The listed sgraffito is located on the old winery warehouse. The Tower is the only surviving building of the former complex and offers space for studio and residential uses as well as commercial units. The houses in the southern part of the area were replaced by two new rows of houses with family-friendly 1½- to 4½-room apartments.
Textile elegance and lightness through HAVER Architectural Mesh.
As fall protection, stainless steel mesh provides robust safety and creates transparency and privacy, depending on the mesh and the viewer's perspective. Despite its stability, Architectural Mesh nevertheless creates a textile elegance and lightness.
The HAVER Architectural Mesh EGLA-TWIN 4253 was used as fall protection for the staircases as well as for the balustrade infills of the balconies. With its smooth surface on one side, the wire mesh EGLA-TWIN has a uniform surface that reflects light homogenously. The final finish of the stainless steel mesh is provided by a lacquering in "Perlgold" RAL 1036.
Haver & Boecker supplied a total of 428 m² ready-to-install wire mesh elements for the entire project.
City
Winterthur, Switzerland
Application
balustrade, falling protection
Object Type
housing, office buildings
Mesh Type
Architect
Project Sheet