Reference projects using HAVER Architectural Mesh
As we all know, a picture is worth a thousand words. Therefore, it is best to form your own picture of our diverse wire meshes - and let yourself be inspired by projects that have already been implemented. Each of them contains all the expertise from hundreds of projects and more than 130 years of experience in the production and processing of wire mesh. Always with the aim of achieving the best result for our customers.
In our extensive and well-stocked reference overview, you will find many successfully completed projects using HAVER Architectural Mesh. Convince yourself of the variety of applications and the quality of our wire mesh and let the projects we have already completed show you the high standards of our work.
Dubai Hills Car Park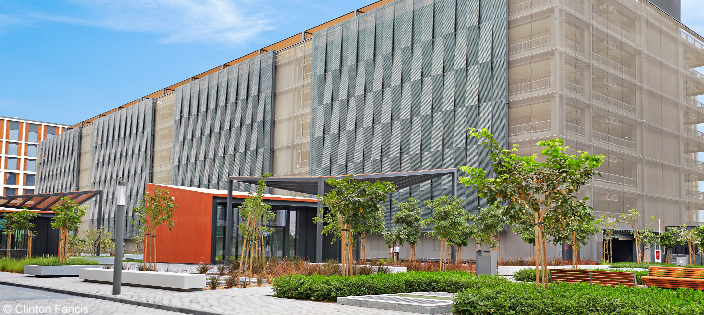 Parking garage with a facade cladding made of HAVER Architectural Mesh EGLA-TWIN 4263
The Dubai Hills Business Park consists of four office / commercial buildings and a central multi-storey car park. The HAVER Architectural Mesh EGLA-TWIN 4263 is used for the filigree façade cladding of this car park.

With its smooth surface on one side, which reflects the light over a very wide area, and an open mesh surface of 65 %, the stainless steel wire mesh meets both: the visual requirements of the architect and the ventilation requirements for the multi-storey car park.

Manufactured in ready-to-install mesh elements, which are up to 25 m long and up to 3 m wide; the wire mesh cladding can be easily attached to the façade of the car park using the mounting solution of tension profiles and clevis bolts. After receiving instructions from Haver & Boecker how to assembly the wire mesh cladding, the company AK Cladding LLC installed the mesh elements.
City
Dubai, United Arab Emirates
Application
façade, balustrade
Object Type
parking garages
Architect
Project Sheet