Reference projects using HAVER Architectural Mesh
As we all know, a picture is worth a thousand words. Therefore, it is best to form your own picture of our diverse wire meshes - and let yourself be inspired by projects that have already been implemented. Each of them contains all the expertise from hundreds of projects and more than 130 years of experience in the production and processing of wire mesh. Always with the aim of achieving the best result for our customers.
In our extensive and well-stocked reference overview, you will find many successfully completed projects using HAVER Architectural Mesh. Convince yourself of the variety of applications and the quality of our wire mesh and let the projects we have already completed show you the high standards of our work.
Market Street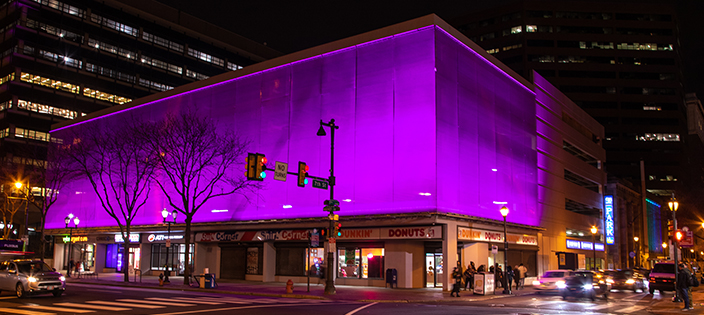 Illuminated car park cladding with HAVER Architectural Mesh
In order to enhance the existing building, the facade of the multi-storey parking garage on Market Street in Philadelphia, USA, has been covered with a wire mesh cladding made of HAVER Architectural Mesh. During the day, the stainless steel mesh reflects the sunlight, after sunset the semi-transparent mesh cladding is illuminated in colored light. Several LED liners are installed in the lower area to illuminate the stainless steel mesh facade in the evening.

The transparency of the wire mesh cladding allows an abundance of natural light and air to flow through the parking facility, allowing car emissions to be dispersed outside the car park and improving air quality in the space.

Sargenti Architects selected HAVER Architectural Mesh EGLA-DUO 4222 for the façade cladding of the multi-storey car park. EGLA-DUO is a solid wire mesh, which can be used as fall protection and façade cladding as well as for many other applications. The mesh appears – due to the combination of flat wires and plain form of the round wires – as a uniform metal veil, which reflects light homogenously. With an open area of 46%, the semi-transparent mesh cladding also ensures the ventilation of the car park decks and provides a significant improvement in air quality without the need for expensive ventilation systems.
City
Philadelphia, United States of America
Application
façade, illumination, coloring, falling protection
Object Type
parking garages
Mesh Type
Architect
Project Sheet