Reference projects using HAVER Architectural Mesh
As we all know, a picture is worth a thousand words. Therefore, it is best to form your own picture of our diverse wire meshes - and let yourself be inspired by projects that have already been implemented. Each of them contains all the expertise from hundreds of projects and more than 130 years of experience in the production and processing of wire mesh. Always with the aim of achieving the best result for our customers.
In our extensive and well-stocked reference overview, you will find many successfully completed projects using HAVER Architectural Mesh. Convince yourself of the variety of applications and the quality of our wire mesh and let the projects we have already completed show you the high standards of our work.
FACQ Merelbeke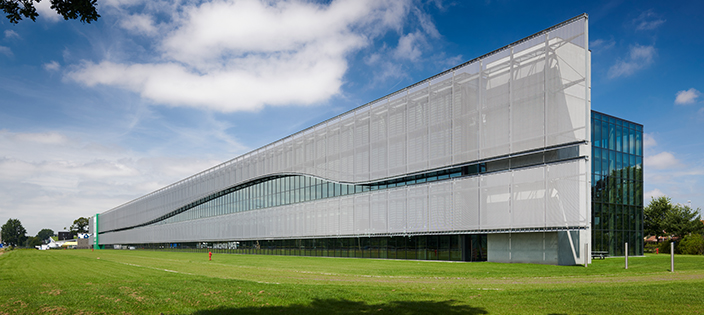 The architecture firm LAB Architects Boveroux Courtoy designed the new FACQ building in Merelbeke. With an almost 300-metre-long mesh façade cladding, it is a real eye-catcher on the E40 highway. In collaboration with the architect and the general contractor Verelst Bedrijfsbouw & Renovatie, Haver & Boecker realised the vision of a shimmering building shell made of stainless steel mesh.
The Belgian family company FACQ has been a specialist in bathrooms, heating and renewable energies since 1880. As a wholesaler, the company addresses both installers and private customers.

Façade cladding made of HAVER Architectural Mesh acts as sun shading
The stainless steel mesh cladding from Haver & Boecker is interrupted horizontally over its entire length by an elliptical elongated shape. In front of the glass façade on the south side of the building, the metal mesh cladding acts as an effective privacy- and sun protection screen. From the very beginning, special requirements were made on it. On the one hand, the facade cladding should appear transparent from the inside but opaque from the outside, on the other hand it should offer perfect sun protection with a very low g-value. Haver & Boecker fully meets the customer`s requirements with the stainless steel wire mesh LARGO-TWIST, developed especially for sun protection.

Excellent shading values
Due to the semi-transparent geometry, HAVER Architectural Mesh is very well suitable for external sun protection. By providing efficient shading and a transparency at the same time, architectural wire mesh improves indoor comfort and energy efficiency of the rooms.
The used stainless steel mesh LARGO-TWIST 2045 is characterized by its tilted horizontal flat wires, which offer good sun protection. With an open area of 38%, the mesh type creates a homogeneous appearance with low transparency and extensive light reflections. At the same time, it allows an unobstructed view out of the building.
With a sunlight incident angle of 60° and a double glazing window, most of the architectural mesh types used for sun protection effect a reduction of solar energy input between 40 % and 70 %. In interaction with a solar control glazing, they reach at the same angle of incidence a g-value among 0.1 to 0.18. The LARGO-TWIST 2045 sun shading mesh clearly exceeds these shading values. Confirmed by independent tests, LARGO-TWIST 2045 reduces the entry of sunlight at this angle by more than 90 %. In combination with solar control glazing, it is a g-value of 0.02.

Everything from a single source
Haver & Boecker took over the assembly of the 3,200 m² mesh façade. In total 182 façade elements, with a width of 2.98 m and a length of up to 7.71 m, were attached to the substructure using flat tension profiles, clevis screws and pressure springs. The architectural team of Haver & Boecker was a competent partner at the customer's side from consultation and planning phase, through mesh production and delivery, up to installation of the wire mesh elements.
PhotoCopyright © Bart Vercammen www.studiovercammen.be
City
Merelbeke, Belgium
Application
façade, sun protection
Object Type
office buildings, shopping centers
Mesh Type
Architect
LAB Architects Boveroux Courtoy
Project Sheet