Reference projects using HAVER Architectural Mesh
As we all know, a picture is worth a thousand words. Therefore, it is best to form your own picture of our diverse wire meshes - and let yourself be inspired by projects that have already been implemented. Each of them contains all the expertise from hundreds of projects and more than 130 years of experience in the production and processing of wire mesh. Always with the aim of achieving the best result for our customers.
In our extensive and well-stocked reference overview, you will find many successfully completed projects using HAVER Architectural Mesh. Convince yourself of the variety of applications and the quality of our wire mesh and let the projects we have already completed show you the high standards of our work.
MST.factory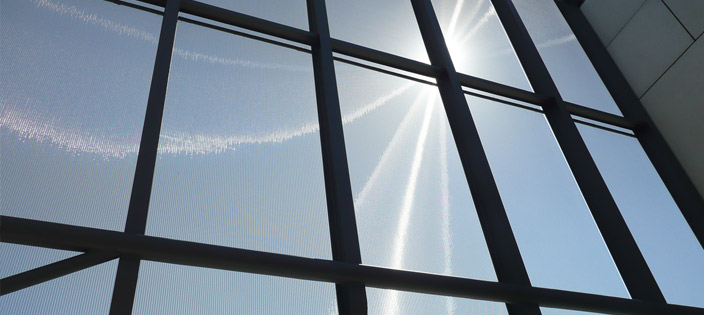 This building for a new service centre was equipped with an architectural wire mesh facade.
Phase I
The new building for this service centre has been upgraded with a wire mesh facade made from architectural mesh EGLA-TWIN 4243.

The standard width for one element is 1,80 m. Each wire cloth element was equipped with clevis screws and pressure springs for easy installation. The intermediate mountings consisted of wire connectors and hollow tubes, a system which has been developed by HAVER & BOECKER.

HAVER & BOECKER supplied ready-to-install panels and conducted the full installation.
Phase II
After completion of the main facade during the first construction phase, the open atrium of the MST.factory service center was equipped with with a wire mesh wall using EGLA-TWIN 4243. It protects the offices inside the atrium from the sun.

Whereas the mesh panels absorb most of the direct sunlight, it still offers a very much sufficient sight from the inside and maintains a high degree of natural lighting.
City
Dortmund, Germany
Application
façade, sun protection
Object Type
office buildings
Mesh Type
Architect
Husemann & Dr. Wiechmann Architekten
Project Sheet