Reference projects using HAVER Architectural Mesh
As we all know, a picture is worth a thousand words. Therefore, it is best to form your own picture of our diverse wire meshes - and let yourself be inspired by projects that have already been implemented. Each of them contains all the expertise from hundreds of projects and more than 130 years of experience in the production and processing of wire mesh. Always with the aim of achieving the best result for our customers.
In our extensive and well-stocked reference overview, you will find many successfully completed projects using HAVER Architectural Mesh. Convince yourself of the variety of applications and the quality of our wire mesh and let the projects we have already completed show you the high standards of our work.
Hangar 7 - Airport Düsseldorf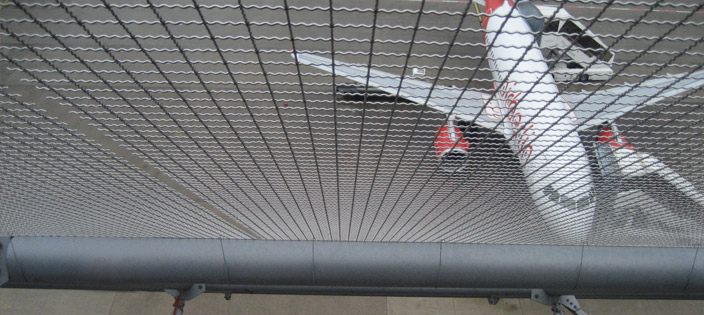 Intercrimped wire mesh provides shielding of radar at the Düsseldorf International Airport.

Technology in line with Architecture

Air Traffic Control regulations require, that new buildings like Hangar 7 at Düsseldorf International Airport are verified for radar and ILS compability (ILS = Instrument Landing System). Radar shadowing and reflexion interferences at certain equipment must be avoided at all times. For such appraisals the altitude, landing and glide paths of the aircraft as well as the as the architecture of the building are taken into consideration.

If interferences exist, the appraisal typically suggests methods to dejam them accordingly. Since Hangar 7 is facing a radar system, the building is considered to be "radar relevant" and appropriate measures had to be incorporated.

To dejam the building it was suggested to install a metal marquee - made from wire mesh - at a 45 degree angle. The wavelength of the radar dictates the mesh type and specially the opening. Based on this the woven wire mesh specification DOKAWELL-MONO 3751 was chosen and used.

HAVER & BOECKER supplied and installed 87 elements, each 13.485 x 2380 mm in size. Each mesh panel was equipped with flat tension profile and clevis bolts, a system which allows for an easy installation. The intermediate mountings were realized with wire connectors, which are clipped to round tubes.

HAVER & BOECKER Architectural Wire Mesh not only impresses visually, they also fulfill many technical requirements. At Hangar 7, the technical features are the main reason for the use of wire cloth - by choosing according specifications buildings can also upgraded from a visual and design standpoint.
City
Düsseldorf, Germany
Application
façade, electromagnetic shielding
Object Type
airports / stations
Mesh
Project Sheet