Reference projects using HAVER Architectural Mesh
As we all know, a picture is worth a thousand words. Therefore, it is best to form your own picture of our diverse wire meshes - and let yourself be inspired by projects that have already been implemented. Each of them contains all the expertise from hundreds of projects and more than 130 years of experience in the production and processing of wire mesh. Always with the aim of achieving the best result for our customers.
In our extensive and well-stocked reference overview, you will find many successfully completed projects using HAVER Architectural Mesh. Convince yourself of the variety of applications and the quality of our wire mesh and let the projects we have already completed show you the high standards of our work.
Médiatheque Chateaugiron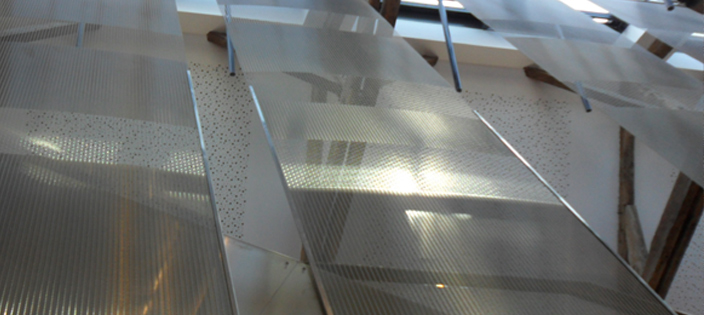 500 m² of HAVER EGLA-TWIN 4253 was used to enhance the interior re-design of the media center in Chateaugiron, France.

Wire mesh elements with a width of 1.25 m and heights of 2.0 m up to 10.0 m were used to form ceiling linings and decorative partitions.

The horizontal ceiling panels are mounted in such a way that they deflect light to the areas beneath the ceiling. The sail shapes of the elements make the ceiling appear delicate and lightweight. The vertical partitions are made from a version of HAVER EGLA-TWIN that has a special feature! EGLA-TWIN VARIO has varying aperture sizes which creates different levels of transparency throughout the large mesh elements.

In some areas the wire mesh appears transparent and translucent. Whilst in other areas the mesh appears opaque and more light reflective. The changing transparency creates visual interest, opening up new vistas.
City
Châteaugiron, France
Application
wall
Object Type
educational institutions
Mesh Type
Architect
Dominique Bonnot Architecture
Project Sheet