Reference projects using HAVER Architectural Mesh
As we all know, a picture is worth a thousand words. Therefore, it is best to form your own picture of our diverse wire meshes - and let yourself be inspired by projects that have already been implemented. Each of them contains all the expertise from hundreds of projects and more than 130 years of experience in the production and processing of wire mesh. Always with the aim of achieving the best result for our customers.
In our extensive and well-stocked reference overview, you will find many successfully completed projects using HAVER Architectural Mesh. Convince yourself of the variety of applications and the quality of our wire mesh and let the projects we have already completed show you the high standards of our work.
Benaki Museum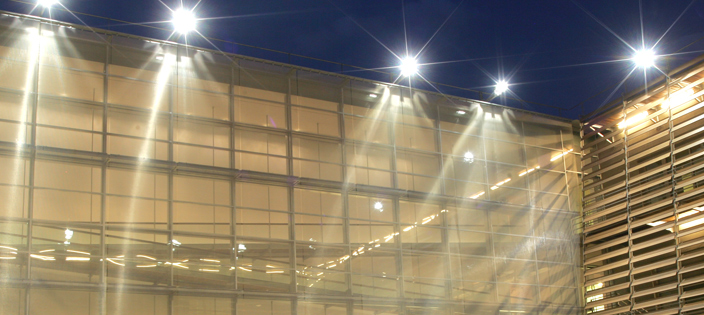 For the Olmpic Games 2004 in Athens, the Atrium of the Benaki Museum received a facade cladding made from architectural mesh EGLA-TWIN 4253.
Not only new sport arenas were built for the Olmpic Games 2004 in Athens, Greece. Many other buildings have been upgraded for this event. The Benaki Museum for example was equipped with a facade cladding consisting of 361 m² of stainless steel wire mesh type EGLA-TWIN 4253. 12 equal elements were installed using the HAVER & BOECKER tensioning mechanism flat tension profile with clevis screws. At the bottom additional tension springs were incorporated. For the intermediate mountings of the 14,30 m large elements wire connectors have been used.

This new modern building has been built to house art exhibitions, gallery and cultural events on behalf of the Benaki Museum Organisation. The structure incorporates an atrium for several open space events.

EGLA-TWIN 4253 panels lend a dense feeling to the façade whilst at the same time they reflect and diffuse the spotlights creating interesting reflection shapes. This wire mesh specification offers adequate sun protection of the south facing facade of the atrium.
City
Athens, Greece
Application
façade, sun protection, building redevelopment
Object Type
cultural/ convention centers
Mesh Type
Architect
Project Sheet