Reference projects using HAVER Architectural Mesh
As we all know, a picture is worth a thousand words. Therefore, it is best to form your own picture of our diverse wire meshes - and let yourself be inspired by projects that have already been implemented. Each of them contains all the expertise from hundreds of projects and more than 130 years of experience in the production and processing of wire mesh. Always with the aim of achieving the best result for our customers.
In our extensive and well-stocked reference overview, you will find many successfully completed projects using HAVER Architectural Mesh. Convince yourself of the variety of applications and the quality of our wire mesh and let the projects we have already completed show you the high standards of our work.
Ohio State University - Parking Garage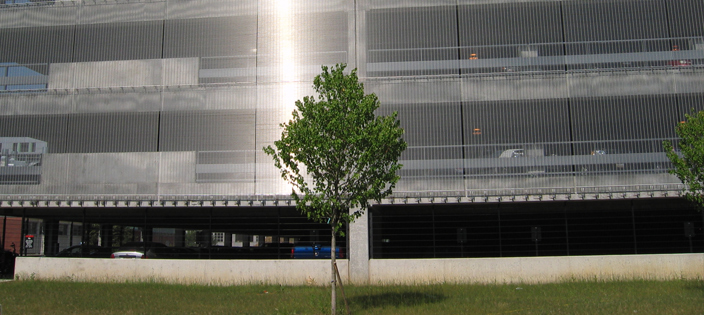 "The quality, craftmanship and dedication to details made the exterior stainless steel mesh skin garage standout as a great project." Gilbane Construction Company

In November 2004 - for the first time in the USA - HAVER & BOECKER covered a façade of a parking garage in cooperation with our US based sister company W.S. TYLER.

The "Neil Avenue Parking Garage" with 983 spots is the latest construction project at The Ohio State University in Columbus, Ohio. 40 000 sqft of our MULTI-BARRETTE now offer gloss and security to the building.

The bottom two photos show how transparent wire cloth will become with illumination from the back.

The architectural concept for this parking garage was first designed by Antoine Predock, New Mexico (www.predock.com), who complemented the look of the parking garage with the attached Larkins Hall. The technical realisation and the final design was done by Moody Nolan in Columbus (www.moodynolan.com).
City
Columbus, United States of America
Application
façade, falling protection
Object Type
parking garages
Mesh Type
Architect
Project Sheet