Reference projects using HAVER Architectural Mesh
As we all know, a picture is worth a thousand words. Therefore, it is best to form your own picture of our diverse wire meshes - and let yourself be inspired by projects that have already been implemented. Each of them contains all the expertise from hundreds of projects and more than 130 years of experience in the production and processing of wire mesh. Always with the aim of achieving the best result for our customers.
In our extensive and well-stocked reference overview, you will find many successfully completed projects using HAVER Architectural Mesh. Convince yourself of the variety of applications and the quality of our wire mesh and let the projects we have already completed show you the high standards of our work.
Theatre Bielefeld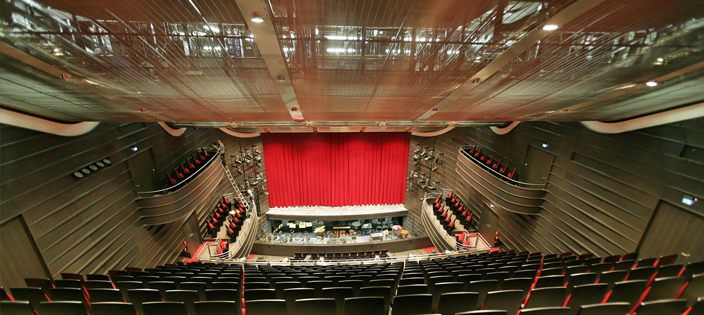 A flexible mesh ceiling made of architectural wire mesh alters the acoustics conditions according to the requirments.

During the renovation of the "Stadttheater" in Bielefeld, the architect put a lot of attention to the interior design. Above the red-covered-seats waves a sinuous ceiling made from MULTI-BARRETTE 8123. The wide archs of the mesh conceal floodlight bridges and acoustical sails.

The ceiling is sound and light permeable. The full volume above the mesh is available for acoustic purposes. If required the director can integrate the mesh ceiling into his production as a backlit sky.

With varying illumination the flexible mesh ceiling is a distinctive eye-catcher and at the same time alters the acoustic conditions according to the different requirements of spectacles and operas.
City
Bielefeld, Germany
Application
ceiling, acoustic
Object Type
cultural/ convention centers
Mesh Type
Architect
Beneke Daberto BDP München
Project Sheet