Reference projects using HAVER Architectural Mesh
As we all know, a picture is worth a thousand words. Therefore, it is best to form your own picture of our diverse wire meshes - and let yourself be inspired by projects that have already been implemented. Each of them contains all the expertise from hundreds of projects and more than 130 years of experience in the production and processing of wire mesh. Always with the aim of achieving the best result for our customers.
In our extensive and well-stocked reference overview, you will find many successfully completed projects using HAVER Architectural Mesh. Convince yourself of the variety of applications and the quality of our wire mesh and let the projects we have already completed show you the high standards of our work.
Hospital St. Antoine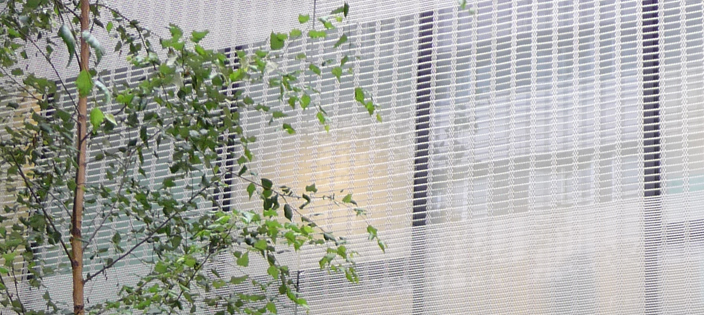 The facade of the St. Antoine Hospital was designed to have a relatively small transparency. At the same time a good view inside out was required in front of the windows.

To realize this HAVER & BOECKER designed a wire mesh with a changing transparency within one mesh panel. LARGO-NOVA 2032 has an open area of 40% and therefore meets the requirements for the areas between the windows. In front of the windows, the distance between the horizontal flat wires was increased to achieve the requested view from the inside. Here the open area is 72%.

Wire mesh with varying openings offer architects and planners a large scope for design; individual structures can easily be generated. The facade at the St. Antoine Hospital for example has a distinctive horizontal structure.

HAVER & BOECKER supplied ready-to-install elements, despite the different openings only one panel in the height of the building. The change in the openings was conducted at the same location for each panel creating an overall homogenous facade. The gaps between the mesh panels are almost not visible.
City
Paris, France
Application
façade, sun protection
Object Type
hospitals
Mesh Type
Architect
Wire Mesh
Project Sheet